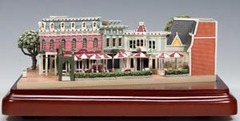 I love that model of Disneyland's Coca-Cola Refreshment Corner. I spent a goodly portion of my life at the real thing for the nine years I lived in Southern California. At first, the main attraction for me was Rod Miller the Ragtime pianist. His music and showmanship was one of the things I remembered from the Disneyland of my youth. But over time, Coke Corner, as we called it, came to be known for the friends I made there (two of which got engaged just feet from Rod's Piano) and the community that sprung up around an appreciation of Rod Miller's music.
In lesser degrees I feel the same way about the rest of Disneyland (on stage and off). If I were to win the lottery, one of my 'early retirement' projects would be to recreate it as a model to walk-through and enjoy when I couldn't be at the real thing. So I was very happy to hear that one of my favorite miniature sculptures, Robert Olszewski, had been contracted by Disney to release a complete set of Disneyland in his beautiful and detailed style.
The first goal was Main Street USA. Judging by the photos on the Disney Gallery site it looks like that has now been completed. Now a few additional attractions have been added as well (like Peter Pan's Flight and Pirates Of The Caribbean).
There was some hope that both a current and original model would be released, but certain issues (mostly health I've heard) have delayed the full release of the first set. What you see on the Disney Gallery Event site is everything released so far. Some are still available, but many are now completely sold-out and available only at NFFC Show and Sales, eBay (aff), and the like.