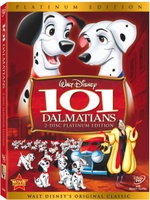 I remember the last time Disney released 101 Dalmatians on DVD to the public. McDonalds has those great Happy Meal Xmas Ornaments and Disneyland's Main Street USA was festooned with the sculptures of 101 cute little dalmatian puppies. Ah… those were the days. It's hard to believe that was 10 years ago. But it was and it's been 10 years since 101 Dalmatians have been let out of the vault in search of milkbones.
This release, the platinum edition release, features a wonderfully done digitally remastered print of the movie. The detail is much more noticeable than on my decade old DVD. The other affect this has is to really bring out the lines and motion of the master animators who drew these characters, especially the marvelous "Cruella DeVil" as brought to live by Marc Davis.
Also included in the two-disc DVD set are a host of special features. My favorites were the 'deleted songs'. It would have been a very different picture if all those songs had been left in. There is also a documentary, some games, and a new music video from teen Disney Channel star Selena Gomez.
The 101 Dalmatians: Platinum Edition 2-disc DVD set is available now at Amazon and at stores near you. But The Disney Blog has a few copies to give away to you lucky readers. We also have an autographed "Key Set" mini-poster signed by Lisa Davis (voice of Anita) and Alice Davis (wife of Marc Davis, Cruella's animator).
To enter the contest please fill out the contest entry form. One entry per person. Enter before March 12th at Midnight EDT. Winners will be contacted via email for shipping information. Shipping to US addresses only. You can enter overseas, but I'm only able to ship to US addresses. Not valid where prohibited by law. Thanks!
The full press release and details for the DVD is below the cut.
Walt Disney's Original Classic 101 Dalmatians
First time on Two-Disc DVD March 4, 2008
Featuring An All-New Digital Restoration, Deleted Songs, Virtual Dalmatians Game, and more
BURBANK, Calif., October 26, 2007 – For the first time in nearly a decade, Walt Disney Studios Home Entertainment unleashes 101 of the world's most famous dogs when Walt Disney's original dog classic, 101 Dalmatians: Platinum Edition comes to DVD March 4, 2008 for a limited time only. 101 Dalmatians is the true Disney Dog classic, considered by critics to be one of the best and most innovative Disney animated films. This all-new two-disc Platinum Edition is a must-own for fans big and small, featuring beloved characters Pongo, Perdita, and their 99 puppies, as well as one of Disney's most deliciously evil villains of all time – Cruella De Vil (ranked on American Film Institute's Best Villains of All Time List).
101 Dalmatians: Platinum Edition is brilliantly restored with enhanced picture and sound and includes all-new, never-before-seen bonus features that will have fans of all ages howling with delight: An all-new interactive "Virtual Dalmatian" game with over 101 possibilities to adopt, train and care for your very own virtual puppy, deleted songs, behind-the-scenes featurettes, an in-depth look at the personal correspondence between Walt Disney and Dodie Smith, (author of the book The Hundred and One Dalmatians), and much more.
One of the most cherished and sought-after Disney classics of all time, 101 Dalmatians is among the last films to bear the personal touch of Walt Disney. This original classic is available for a limited time only before it returns to the Disney vault.
Bonus Features
Disney's Virtual Dalmatians
Adopt, name, train and care for your very own virtual puppy where there are over 101 possibilities.
Puppy Profiler
Find out which dog you're most like!
101 Pop-Up Trivia Facts For The Family & Collector
Discover 202 amazing things You Never Knew about the movie as you watch it – with 101 pop up facts for the family and 101 for the collector
All-New "Cruella De Vil" Music Video
The classic song "Cruella De Vil" gets a contemporary twist when multitalented teen Disney Channel star Selena Gomez performs the song in a brand new video!
Redefining The Line: The Making Of 101 Dalmatians
101 Dalmatians is considered by critics to be one of the best and most innovative Disney animated films. Go behind the scenes with its creators to find out about everything -including the technological innovation of the Xerox process in animation.
Cruella De Vil: Drawn To Be Bad
Inspired by flamboyant actress Tallulah Bankhead, Cruella De Vil has become a villain that movie fans love to hate. Marc Davis, an animation legend and one of Disney's immortal "Nine Old Men" reveals how this iconic character came to be.
Sincerely Yours, Walt Disney
Experience Walt Disney and Dodie Smith's (author of the book The Hundred and One Dalmatians) actual correspondence during the movie's production.
Deleted Songs
Songs written for the film -finally come to life!
And Much More!
When Pongo and Perdita, a pair of adorable Dalmatians play Cupid for their human pets, wedding bells soon ring! In a short time, the dogs become the proud parents of 15 winsome puppies, but their happiness is short-lived. The wicked Cruella De Vil wants to buy the all puppies-to make a coat! When her dastardly offer is turned down, she orders her bumbling henchmen Horace and Jasper to abscond with the puppies as well as every other Dalmatian puppy in London. Pongo and Perdita must rally a network of animals across rk of animals across England with the "twilight bark" to help find Cruella's secret hideaway and rescue 99 precious puppies.
STREET DATE: March 4, 2008
Suggested retail price: U.S. $29.99, Canada $36.99
Feature run time: 79 Minutes
Rated: "G" Bonus materials not rated or subtitled.
Technical specifications may only apply to feature
Aspect ratio: 1.33:1 full-screen aspect ratio
Sound: All-new Disney-enhanced Home Theater Mix
Dolby Digital 5.1 Surround Sound
Languages:
English, French, and Spanish language tracks
Close captioned in English
FastPlay:
FastPlay enabled