A couple upcoming events at Walt Disney World I wanted to make sure I noted here. First, there's going to be a re-dedication ceremony for Spaceship Earth. Unfortunately, I don't have the exact date for that (if you do, please drop me a line). While I'm still not happy with the lack of sets and scenes in the 'return to earth' portion of the attraction, I'm impressed enough with the way the attraction has come together with its narrative changes including a post-show exit area that is setting a new standard for the attraction post-show (instead of just shoving you into a store).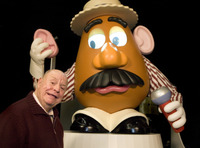 Don Rickles comes face to face with his "Toy Story " alter ego, Mr. Potato Head, at Walt Disney Imagineering in North Hollywood, Calif., on Feb. 23, 2008. Disney Imagineers have created a sophisticated Audio-Animatronics figure (two actually, one for each coast) featuring the voice of Rickles for "Toy Story Mania!"; a cutting-edge, interactive ride-through attraction that combines the fun of a video game, 4-D technology and interaction with favorite Disney-Pixar stars. The all-new attraction opening in summer 2008 at Walt Disney World Resort in Florida and Disneyland Resort in California. I'm hearing that the Hollywood Studios version is further along than California Adventure. Look for soft openings as soon as April.
ESPN The Weekend starts tomorrow and runs through Sunday at Disney's Hollywood Studios. Visit www.espntheweekend.com for the latest information including guest appearances by some of your favorite sports stars.
St. Patrick's Day returns to Pleasure Island this year for Pleasure Island's Sham-Rock 'n' Roll. On March 14, 15 and 17 the island will "turn green" with live music featuring Seven Nations, videos by Irish artists, leprechauns and stilt walkers. Club admission is not required to experience the fun beginning at 7 p.m. each day. I enjoyed eating at Raglan Road during last year's event too.
March 14th marks Mickey's Pin Trading Night from 6 to 9 p.m. at Disney's Contemporary Resort. Green is the theme for Mickey's Pin Trading Night. This free activity will be held at the Convention Center and is open to Guests of all ages. For more info visit disneypins.com.
Finally, please note that March 8th is the final performance for Disney Stars and Motor Cars Parade. The first day official day for Pixar's Block Party Bash is March 14. The parade, which was imported from California Adventure in Anaheim, CA, transforms Disney's Hollywood Studios into a non-stop, interactive musical block party featuring favorite Disney-Pixar characters, including Woody and Buzz Lightyear from "Toy Story," Mike and Sully from "Monsters, Inc." and Flik and Atta from "A Bug's Life," as well as dancers, acrobats, jumping stilts and more!