We were told to expect the most significant announcement in this history of Busch Entertainment Corporation (BEC) and, short of a plan for Anheuser-Busch to sell the company, they delivered. Today BEC was joined by executives from Nakheel, the largest property developer in Dubai United Arab Emerites, to reveal the agreement to create the Worlds Of Discovery – a four park mega resort – on The Palm Jebel Ali in Dubai.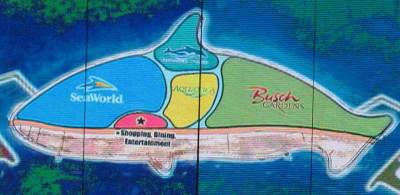 Map of "Shamu Island" home to Worlds Of Discovery – Dubai.
SeaWorld, Aquatica, Busch Gardens, and Discovery Cove – The Worlds Of Discovery parks – will see their first guest as soon as 2012 on a Shamu shaped reclaimed custom built island at "The Crown" of The Palm Jebel Ali, the world's largest man-made island. The Palm Jebel Ali is the second palm tree shaped man-made island to be built as part of Dubai's quest to become the world's entertainment destination. It will feature luxury housing, and resort hotels along its many acres of new shoreline.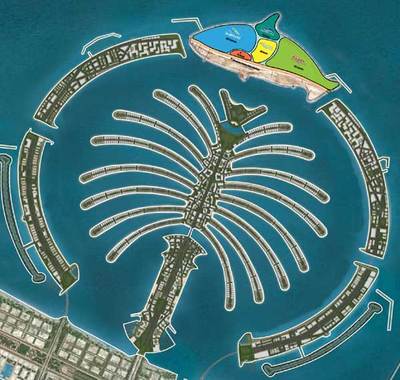 The Palm Jebel Ali, the world's largest man-made island.
More than 2 billion people live within a 5 hour flight of Dubai, which makes it a natural hub for the Middle East, Africa, Eastern Europe, and India. Worlds Of Discovery – Dubai will join Universal Studios Dubailand and a host of other tourist attractions including Cirque De Soliel, The QE2, Trump Tower, and an Atlantis Resort in the region.
Note: I'll be expanding on this article further tonight. More details and photos below the cut.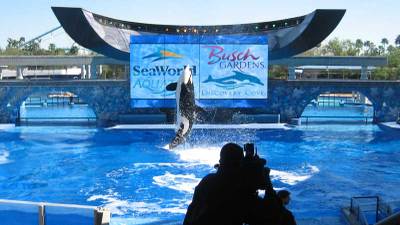 Following a brief killer whale show, with the flair you would expect from the folks at SeaWorld, Joe Couceiro, BEC Chief Marketing Officer, kicked off the ceremony with a discussion of how there have been a lot of announcements lately. The move of the BEC Headquarters to Orlando, new positions created, the change to the Worlds Of Discovery brand, and Aquatica, just to name a few. But nothing would compare to todays news.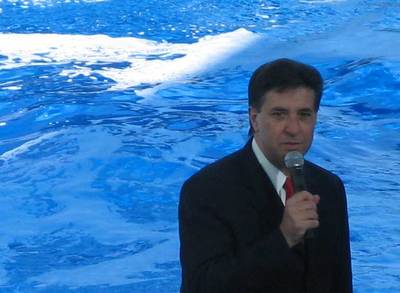 Joe Couceiro, BEC Chief Marketing Officer
Jim Atchison, the BEC President and COO, then came to the stage and talked about how Anaheuser-Busch brand has been global, but until now the BEC parks have remained a domestic product. But now, through a partnership with Nakheel that is all about to change. They just signed a memo of understanding that will allow Nakheel to build the four parks as part of their Dubai real estate developments. BEC will then operate and staff all four parks.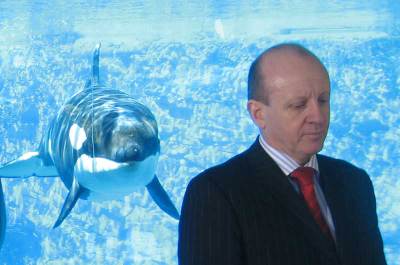 Nakheel Chief Executive, Chris O'Donnell
Next to the stage was Chris O'Donnell, Nakheel's Chief Executive, and he spoke glowingly about the Busch Entertainment brand how what a great fit it would be for Dubai. According to O'Donnell, Nakheel will be providing the capital for all the construction and BEC will provide the intellectual property and the operation know-how along with trained cast members from it's American parks.
Video of the Closing Ceremony:
(More to come…)