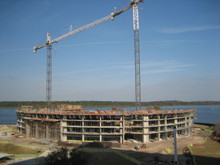 Walt Disney World is currently constructing "Kingdom Tower" a new retirement home located adjacent to the Contemporary Hotel… oh wait. This just in, that's not a retirement home, it's a timeshare hotel part of the Disney Vacation Club. What kind of name is Kingdom Tower? Sounds like a Stephen King novel or a retirement home.
Yeah. The secret is finally fully out in the open now that Disney has been forced to file papers with a state agency. That construction really is a Disney Vacation Club project
Disney says in the documents that it will sell the time shares in phases, beginning with an initial 75 units. The Kingdom Tower, which will connect to the existing Contemporary via a fifth-floor pedestrian bridge, will ultimately contain 281 units, according to the filings.

A spokesman for the Department of Business and Professional Regulation, which awarded a time-share license to the Kingdom Tower project earlier this month, said Disney has now been cleared to start selling units at any time.

"They can begin," department spokesman Sam Farkas said.
They can, but I don't think they will. There is still the little matter of Sarasota Springs DVC and Animal Kingdom Lodge DVC, both of which have unsold units.
The most interesting rumor I've heard lately is that Disney will shortly be building a second 'horseshoe' tower on the otherside of the contemporary to bring the number of rooms available at the original Magic Kingdom hotel back up to a the pre-DVC levels. (Read)