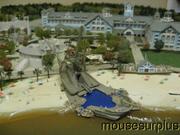 The original 1/32 scale architectural model of the Disney Yacht & Beach Club Resort is available on eBay via MouseSurplus. This is a pretty unique auction, not just for it's opening bid ($49,999) but also for the fact that a collectible piece of Disney history like this very rarely comes up on the open market. Usually Disney will keep its original models in deep storage somewhere.
The architectural model itself is over 5 Feet by 5 Feet in 1/32" = 1′ Scale. The auction also comes with your own Walt Disney World vacation to come and see the model before it's shipped to your location.
If you win this auction, I'd appreciate an invite to come and see the model with you. I promise not to eat much.