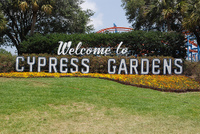 It was very cold last night in Central Florida. Below freezing in fact, which is unusual for these parts. Many of the beautiful plant displays at the regions local theme parks were in danger. Some of the parks are trying this new 'frost-off' (I hope they'll still let me through the gates) foam product to try and save some of the floral decor. The Ledger has a video of it in use at Cypress Gardens.
That's not the only change that was announced yesterday at Cypress Gardens. The above clip ends with a short interview of Cypress Garden's new co-owners Rob Harper and Brian Philpot. Brian and Rob have decided to hire an outside management company, Baker Leisure Group, to run the park for them. That means that the park's previous owner, and its savior from the dust-bin of history, Kent Buescher, has been shown the door. I'm sorry that Kent had to go. I've met Kent and his family and they're very nice and had their hearts in the right place.
It's not that Kent was doing the wrong things, acquiring the historic Starliner wooden roller coaster was a great move, and without the hurricane damage related debt the park would have been profitable, it's just that he wasn't doing enough of the right things. Winter Haven is not Valdosta and much of what worked for Kent up north did not translate to Florida.
Employee retention and moral was low, in part from training and supervision issues and in part from the low pay and odd hours. The food mix in the park is off in terms of offerings, locations, prices, kid meal selections. The over-all foot traffic flow lends itself to guests skipping the prime revenue areas (food courts, shopping, and pass upgrades (plus the water park location needs to be dealt with).
Baker Leisure Group may also want to re-consider some of the 'themeing' plans that Cypress Gardens had announced and even take a look at re-configuring the park's various 'lands' to include some of Walt Disney's famous "Weenie's". From what I've read BLG has a lot of the above already in mind.
It's important to protect the history and the gardens themselves, but you don't want to cut off your foot to save your toe. A few, very small, sacrifices will have to be made to allow the park to return to its full glory. Buescher was on the right track with adding some events that would attract locals to the park. The Winter Haven location puts the park on the outskirts of "Orlampa" and a good 40 minutes away from the Disney attractions area (additional traffic lights in the area has made the trip longer recently). So you have to draw the locals in, they're your lifeblood. Then once you have the locals there you have to make sure you're offering a product that will make them want to return. It sounds simple, but the execution of it is in the details.
Steven R Baker and the Baker Leisure Group have a 20+ year history of making attractions around the world work by focusing on the details. Baker's background is primarily at Disney but he's surrounded himself with people from Universal, SeaWorld, and some smaller attractions to provide some breadth of knowledge. Judging from their portfolio they're bringing a lot of exactly the right experience needed to save Cypress Gardens and even to make it something special. I wish them all the success in the world. I love Cypress Gardens and want to see it survive for ages to come.
The full press release from the announcement is below the cut. See also coverage in The Orlando Business Journal, The Ledger, and The Orlando Sentinel.
(photo courtesy Josh Hallett Hyku via Flickr Creative Commons)
New Cypress Gardens Ownership Announces Operational Change at Historic Attraction
Respected attractions management specialist Baker Leisure Group to oversee park operations, entertainment; provide more enjoyable guest experience.
CYPRESS GARDENS, Fla., Jan. 2 /PRNewswire/ — The new owners of Florida's Cypress Gardens have announced a significant operational change at the historic attraction. Owners say the move will create a more energized, fun- filled experience that will be applauded by Cypress Gardens' current guest base and create strong appeal to both area residents and visitors to Central Florida.
Baker Leisure Group, headquartered in Orlando, respected worldwide as one of the premiere consulting and management specialists in the themed attractions industry, has been appointed to operate the 71-year old Florida themed attraction. "This is an important first step toward providing our guests with a more positive, memorable guest experience," said co-owners Rob Harper and Brian Philpot, who announced Baker Leisure Group's appointment on Tuesday. Harper and Philpot said the change does not affect the attraction's operating staff, but replaces the contractor that had been managing Cypress Gardens on interim basis since the two Polk County natives purchased the attraction last October. The operational changeover is effective immediately.
"We are fortunate to have Baker Leisure Group at Cypress Gardens. They are one of the premier management companies in the world and based in Central Florida. Cypress Gardens needs a strong community presence, an element the Baker group understands," said Harper and Philpot. Baker Leisure Group, comprised of veterans of some of the world's most successful theme parks and attractions, has earned worldwide recognition for their attraction and theme park management capabilities. The Orlando-based company has handled assignments ranging from the popular Coca-Cola Olympic City at the 1996 Atlanta Olympic Games to planning, opening and managing Al Shallal, Saudi Arabia one of the largest theme parks in the Middle East. Altogether, Baker Leisure Group has been involved with more than 100 theme parks, attractions and related assignments around the world since the firm was founded in 1988 by 40-year theme park and attractions management specialist Steve Baker.
Harper and Philpot also stresses that the attraction will maintain a close relationship with the local community. Community relations programs will include partnerships with local businesses, greater community involvement and a proactive outreach to Cypress Gardens' "alumni" and fans.
Cypress Gardens staff were notified of the operational change on Tuesday morning. Vendors and suppliers to Cypress Gardens were also notified of the change, along with assurances that the change is a reflection of the new ownership's confidence in the park's future.
The ownership team said they are in the process of notifying a number of other influential local audiences in Central Florida, including tourism industry and economic development leadership, as well as current ticket holders and volunteers who have lobbied to keep Cypress Gardens operating after the attraction suffered attendance declines in the 1980s and 1990s and an ownership change in 2005.
"Visitors to Cypress Gardens will notice a more lively, interactive, engaging atmosphere as we move forward," said Steve Baker, whose company has assumed operational control of the attraction. "We provide the best overall guest experience possible. The changes will range from cosmetic to cultural. Cypress Gardens enthusiasts will recognize and applaud the changes and potential guests, particularly families living in the fast-growing Polk County metropolitan area, will have plenty of reasons to want to visit the attraction for the first time or make a return visit."
Baker said operational changes will address intangibles such as more extensive staff training, revised internal operating procedures such as queue line management and more accessible food and beverage service, as well as more visible changes.
Land South Holdings Group
Land South Holdings, based in Mulberry, Fla., is a real estate investment company specializing in large land acquisitions in the United States. http://www.landsouthgroup.com
Baker Leisure Group
Baker Leisure Group based in Orlando, Fla., is a multi-faceted management and consulting company specializing in attractions, entertainment centers and tourism businesses. http://www.bakerleisuregroup.com