When I first saw Chris Sander's designs for "American Dog", his second animated feature for Disney, I immediately fell in love. Sander's way of playing with light and watercolor backgrounds impressed me in "Lilo & Stitch" and it looked like he was taking it to a new level with American Dog. But good design does not a feature film make. It requires great story and then the film is built up around that.
So we in the Disney fan community have all put a lot of trust in Ed Catmull and John Lasseter's decision (one of the early decisions they made after the Pixar/Disney merger) to move aside Chris Sanders and bring in Chris Williams. They reworked the story and, as such, much of the elements of the movie changed (following the edict that each film is a personal effort of the Director). So here is the first look at the new character look and design of "Bolt" (which is the new name for the film).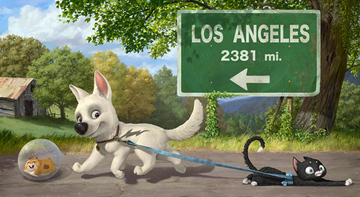 When I look at this concept art I think one thing – Product Design. These characters appear to be intentionally designed to translate directly into lovable plush characters. Disney always sneaks in one of these films designed to move product after a few films of low product sales (Meet The Robinsons and Ratatouille). Can't say that I blame them.
The second thing I see in this picture is lots of humor. Hamsters in plastic balls lend themselves to lots of hilarious situation based comedy. And cats, who doesn't laugh at cats, LOL. BOLT HAZ CHEEZBGR.
As far as I can tell this is Bolt's plot synopsis:
For super-dog Bolt (voiced by John Travolta), every day is filled with adventure, danger and intrigue—at least until the cameras stop rolling. When the star of a hit TV show is accidentally shipped from his Hollywood soundstage to New York City, he begins his biggest adventure yet—a cross-country journey through the real world. Armed only with the delusions that all his amazing feats and powers are real, and with the help of two unlikely traveling companions: a jaded, abandoned housecat named Mittens (voiced by Susie Essman) and a TV-obsessed hamster in a plastic ball named Rhino, Bolt discovers he doesn't need superpowers to be a hero.
So now we wait until Thanksgiving weekend of 2008 to see if "Bolt" is able to beat the numbers from some from Walt Disney Animation Studios 1990s glory days films. Opening that Wednesday should position it for strong numbers, if it doesn't have serious family film competition (for instance, Harry Potter – which is also lined up for that weekend).
I do hope Chris Sanders gets to do his "American Dog" project one day. If "Bolt" is a strong enough property for the Walt Disney Company, they shouldn't mind too much if a film with a similar plot comes out a few years later, since everyone else does that to them anyway.
See also: Panasonic Youth's interesting point about why Disney would consider a film that addresses America's TV obsession when so much of Disney's business is built on that same obsession.
This Slashfilm article on Bolt
Cartoon Brew Article on Bolt (as always, some of the comments are enlightening)