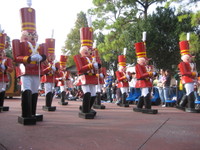 I chose not to spend big bucks to attend Mickey's Very Merry Christmas Party this year, so the first chance my son and I had to see the Holiday offerings at the Magic Kingdom was yesterday. We enjoyed "Mickey's Twas The Night Before Christmas" stage show. Nothing new, but it's nice that they put this on with a live band.
I also have to give the cast credit for their energy and professionalism with some of the stale material. Finally, all the characters had the articulated heads and I'm happy to report that the closeness of the audience to the stage was not a problem. You quickly forget that they're puppets and they become the Disney characters you've always loved.
We also saw the holiday parade which has some new floats and a new name – Mickey's Once Upon a
Christmastime Parade. I miss some of the old floats (particularly the big stern wheeler float) but appreciate the length and the energetic performances put on by the performers. I took some pics and they're up on Flickr right now (start here and work backward thorugh the photo stream).
I'd love to be able to offer more photos to the readers of The Disney Blog. So, if you're in the holiday spirit and feel like contributing to a 'Pro' level account for The Disney Blog on Flickr, I've put a paypal donate button below the fold. Thank you and Happy Holidays.
Thank you for your donation to help get The Disney Blog a Flickr Pro account