Terri Hardin is a puppeteer, designer, a Disney collectible artist, former Imagineer, and an amazing teacher. I feel privileged to call her a friend. A few years ago I took one of the Pumpkin Sculpting classes Terri offers each year around Halloween. It turned out to be something I was good at and opened up new worlds of thinking for me. But even if you're not good at sculpting, and trust me — I'm not that good, you can still make amazing sculpted pumpkins, just like you'll see at the Disney Parks or in store displays, if you get the right tools and take one of Terri's classes.
And therein lies the problem. There's only one Terri and she only has time for a few classes each fall. So how do you learn? Well now you can take Terri's Pumpkin Sculpting class via FUGU.com an online learning website. There are three sessions available online. The first session is free so you can try it out and see if you want to spend the $10 for each of the other two sessions (or $18 for both). Eighteen Dollars to learn from an Imagineer and Disney Artist while changing the way you think about pumpkins and your inner artist for the rest of your life? Money well spent, I say.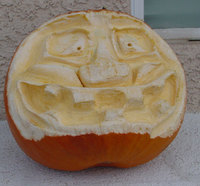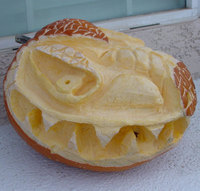 Yeah. Those are some of the pumpkins I've sculpted on my own. I need to find a good patch here near Orlando.