Here is some concept art released today to go along with the announced improvements coming to California Adventure.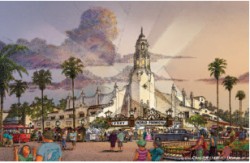 Carthay Circle recreation at the new Entry Plaza. Part of the attempt to show case Southern California as Walt Disney himself would have experienced it in the late 20's through the late 30's. Note the 'Street Car' transportation in this concept art too. That's a crucial part of guest transportation for the Second Gate 2.0.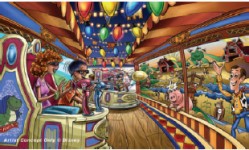 Toy Story (Midway) Mania. This announcement leaves off the Midway, although I've heard it will get the longer name.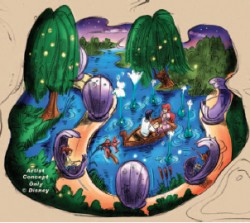 The Little Mermaid attraction. Some update of the Tony Baxter planned attraction for this modern Disney classic animated feature.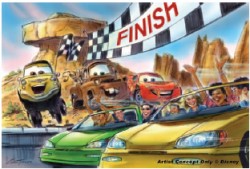 Radiator Springs Racers. Needs a new name, but this is concept is the major attraction of the new 'Carsland' 12-acre expansion. RSR will feature 'Test Track' style cars and technology racing through a 'Cars' character populated race. This will take up major acreage.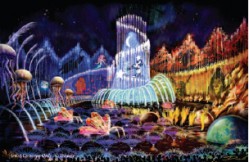 Disney's World of Color. A night time water show that is supposed to blow you away and dwarf the Bellagio show in Las Vegas. Will fit in the current lake area, but a viewing area will have to be constructed to fit 7000-10000 guests per show.
You can download the full fact sheet PDF.