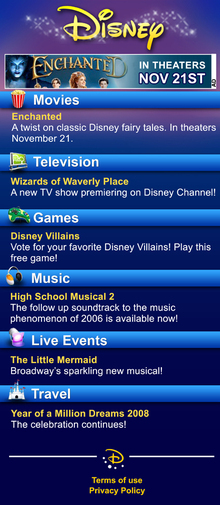 The Walt Disney Internet Group (WDIG) launched a free, ad-supported mobile phone version of Disney.com that allows users to access the world of Disney on their cell phones. The site can be reached by texting the keyword "Disney" to 347639 (Disney) or by entering the Disney.com address into a cell phone's web browser.
"Through this new mobile web site, we provide consumers with anywhere, anytime access to Disney," said Larry Shapiro, executive vice president and general manager, North American Mobile, Walt Disney Internet Group. "The site builds on our multiplatform efforts, as it will eventually provide further integration with activities on Disney.com, including Disney.com XD and Disney's virtual worlds, and will provide a pathway for The Walt Disney Company's offline divisions to reach their consumers through mobile."
The mobile site includes streaming video and audio clips, games, photos, showtimes, TV schedules, polls, quizzes and more and is an ever-evolving entity with new features, functionalities, and interactive personalized experiences being added frequently.