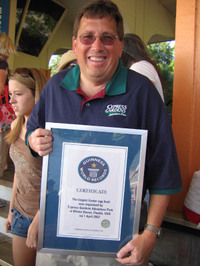 This last January I became a member of the Cypress Gardens fan club and an annual passholder. As a Central Florida local, I found the value of entertainment for the dollar at Cypress Gardens very good. There was tons of stuff for my 3 year old and his friends to do, a good mix of mid-level coasters and thrill rides, and there was the legacy gardens and waterski shows (which have their own admittedly unique charm). There were also hardly any crowds.
Kent Buescher (that's him above), owner of the Wild Adventures Theme Park in
Valdosta, Ga. swept in 2004 with a plan to save the original Cypress Gardens from closure and being turned into a housing development. His plan? Turn the small attraction with just a few rides into a full fledged amusement park the whole family could enjoy.
Kent did a lot of things right. He kept the original charm of the gardens and agreed never to encroach on them with new rides. They added a ton of new concerts and promotions that drew in the locals. He imported some of the most popular thrill rides from his park in Georgia and built a huge number of kiddie rides. He even added a water park, something that was missing from the area. I really feel that with all else being even, Cypress Gardens would have succeeded.
Unfortunately, there was a lot going against Cypress Gardens. The murdering blows were the triple strikes of the 2004 Hurricanes that devastated the park just as they were preparing to re-open. That meant they essentially had to pay to remodel the park twice. And to cap that off was a lost battle with the insurance companies to pay for the damage.
Additionally there is its location. It is so far from the attractions area of Walt Disney World it will never be a real tourist destination for Central Florida. Sure the gardens might attraction some people interested in the history and floral arrangements. The park, smartly did not attempt to compete with Walt Disney World. But it just might be too far from the population center of Orlando to attract those visitors as well. That means the park really has to concentrate on wowing the locals and providing them an excellent value. It did not always meet that goal, and, as such there were many Saturdays and Sunday when you could shot a cannon down the attraction area and not have to worry about hitting anyone.
So, now Kent Buescher has been forced to put both parks up for auction to pay off his debts. I really feel sorry for the man and his family. This should have been their crowning glory but mother nature and the insurance companies took that away.
So for anyone who has $17.4 or more to buy a profitable local amusement park here are a few things you can do right away that will help bring the locals into your park.
1) Figure out how to add a separate parking lot and entrance for the Water Park. Making families walk all the way from the main parking lot to the far end of the park carrying everything that is required for a day at a water park and then back again at the end of the day is not good customer service. There is a reason water parks are usually set up as second gates. However, I think you should keep it one admission, or provide a "season pass" for like $20 that allows parking in the water park lot. (yes, I know this conflicts with #4 below)
2) Food & Dining. Currently Cypress Gardens uses food like a club to hit guests over the head with. You aren't allowed to bring in outside food or drink (which is fine), but then they do things like not providing kids meals or reasonably priced food. Cypress Gardens does not have a captive audience in the same way that Universal, SeaWorld, and Disney does. If locals don't find a value, they just won't come back. Even worse they won't tell their friends. So the new owners need to find some way to find value and variety for the locals to enjoy.
3) Employee training. The heart of Cypress Gardens right now is its employees. Making sure that every employee is on board with providing excellent guest service that will keep the locals coming back again and again is crucial to the park's success. Do what you gotta do in this case. Keep in mind that your talent pool is small in the Winter Haven area. So don't burn your employees either or you'll find it harder and harder to recruit.
4) A slight reconfiguration of the park. Hire a theme park architect company to come in and redo the whole area from the ticket booths all the way through to the old parking garage area. Right now a guest can stay a whole day in the park and never once walk down your "Main Street". Since that is where the majority of your food and shopping is located at, this is a problem. It's possible to do this without loosing any of the old gardens area, but to do it right, you might have to lose about 100 ft from the giant topiary area. I would also push my ticket sales as far out as I could and use the space where they are now to set the theme for the park with some well themed buildings.
5) Dark rides. There are no dark rides in the whole park. If you're going to spend any money on new attractions, a couple dark rides would be the first place to look. There are some very cool off the shelf models that come close to Disney level interactivity these days.
6) Theme. Identify a theme and stick with it. Slowly expand that theme throughout the park. Immersive details may not make the experience by themselves, but they're a crucial element of your product, which is a day of escapist fun for the family. I'll suggest a theme here "Old Florida". That fits with the new Starliner coaster. You can tie-in gardens, art-deco, plantation, movie stars, key west, and nostalgia. That last one is going to tie-in to the retiring baby-boomer generation. This will help you with your marketing as well. Right now I really think the majority of people don't know what Cypress Gardens has to offer.
Right now the park has had to shift to "Garden Days" with reduced admission Monday through Thursday, which means the garden areas are open, the famous water skiing show is on,but the rides are closed. This works as a temporary program, hopefully is a one time reduction in services. Good luck to whomever purchases the historic park. It's a gem of a property that just needs a little polishing to make it really shine.