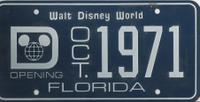 What do you collect? As a Disney fan, I've collected a variety of Disneyana over my career. As a kid I started with visors and mini-license plates with my name on it (that turned out to be a small collection). As a teenager, I started to collect Coffee Mugs and watches. Then as an adult I've collected ephemera, books, and, of course, pins. I've just scratched the surface of what is collectible as a Disney fan and exploring everyone else's obsessions is part of what makes being a Disney fan so enjoyable.
Ryan Crochet has opened his new Club 71 blog with a look at some items from his personal collection of Disney License Plates. For instance, there is the elusive WDW 1971 Blue Plate (pictured above).
The story on where this plate came from has been debated, but I'll
relate it as accurately as I can. Disney released this plate to
announce the opening of Walt Disney World in 1971, and as I understand
it they sold this plate at the WDW Preview Center. It subsequently had
to be pulled from the shelves because it apparently was a little too
close to the actual Florida 1970-71 license plate.
There's lots more already and it looks like Ryan is building a great foundation for a wonderful new Disney Blog.