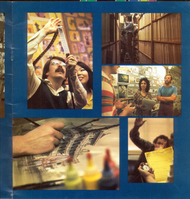 The Animation Guild blog has opened the vaults and found this recruitment pamphlet from Walt Disney Feature Animation in 1977. This was the period right before Don Bluth left, only a few of the old timers were still around, and Winnie the Pooh and The Rescuers had just been released. It would be four years before The Fox and The Hound was released and four more years before the nadir of Disney feature animation – The Black Cauldron. But by that point the seeds of Disney's 1990s string of hits was in place. (Which actually started in 1989 if you include The Little Mermaid.)
The picture in the upper right is from the
Disney Morgue (as it was then called), where there were shelves and
shelves of animated scenes from Disney shorts and features going back
to the beginning of time. It was down in the basement of the old
Animation Building, and an eerie place to visit.

Anyway, TAG blog looks at who is who in the brochure and gives a 'where are they now' update. Interesting stuff. (Read Part 1, Part 2)