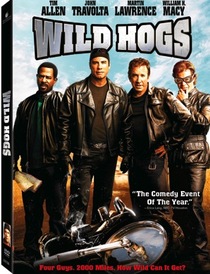 On the face of it, this is a simple story. Four middle-aged men, all facing a mid-life crisis of some sort, who hit the road. Hilarity ensues and the men all learn something about themselves that will help them conquer their fears. The problem with Wild Hogs is that they're never quite sure if they're telling this story, or another more fantastical story about four caricatures of modern day men who enter a cartoonish world from which they can't escape.
By the time the movie figures itself out, the show is 2/3rds over. That final third is fun to watch, and the moments of the first vision that manage to shine through the rest of the film are decent as well. Even the extra bits during the credits are funny. It's sad that the rest of the movie wasn't able to sustain that level.
Also, I would like to file a complain with the federal actor's bureau over the performance of John Travolta, who was obviously just showing up and putting on the make up for most of this film. You're not supposed to like his character, but there should be some hint of motivation there. There were some good performances put in by the other members of the film, most notably Ray Liotta, although his character is one of the problems with the film.
Wild Hogs is available now on DVD and Blue-ray DVD. Both versions ship with a few decent special features. A documentary of the making of the film (at least someone was having fun), some deleted scenes (watch them and know why), an audio commentary with the writer and director, and an alternate ending.
Sadly, I'm just a few years away from being these characters. At least in terms of age. So I sympathized with some of their plights. In my dreams this film was written by Woody Allen, who is a master at mixing stories of the human condition, personal change, and humor. Unfortunately we're stuck with Wild Hogs as it is.
Rating: 2.5 roadkills out of 5.
PG-13 rating is accurate, parts are not appropriate for young children.
The full press release is below the cut
BURBANK, Calif., May 11, 2007 – "A lot can happen on the road to nowhere," especially when four middle-aged guys who wanna shake up their suburban lives are at the wheel. So be sure to reserve your laughs for the August 14th DVD and Blu-ray disc release of Wild Hogs from Touchstone Home Entertainment.
The star-studded cast of this hit comedy includes Tim Allen ("Doug"), John Travolta ("Woody"), Martin Lawrence ("Bobby") and William H. Macy ("Dudley") as four suburban couch jockeys who suffer from mid-life crises and take motorcycles to the American asphalt expecting nothing but fun and adventure. But being an easy rider isn't so easy, especially after a chance encounter with the real-life Del Fuegos biker gang proves just how lame and tame the Hogs really are.
Packaged with both the DVD and Blu-ray Disc release is a Harley Davidson Sweepstakes insert that gives couch jockeys a chance to win a Harley Davidson motorcycle. The Wild Hogs DVD and Blu-ray Disc have a topped-off tank full of bonus features for the armchair biker including "Bikes, Brawls and Burning Bars: The Making of Wild Hogs," a making-of featurette led by director Walt Becker and featuring interviews with the superstar cast. The Wild Hogs alternate ending shows the originally planned final scenes with a character the gang never wanted to see again. Additional features include deleted scenes, an easter egg, outtakes and an audio commentary with Walt Becker and writer Adam Copeland.
Bonus Features
• Bikes, Brawls and Burning Bars: The Making of Wild Hogs
Director Walt Becker leads viewers through the process of putting together the A-list cast and describes the difficulty of shooting a road movie involving over 100 motorcycles! Tim Allen, John Travolta, Martin Lawrence and William H. Macy talk about working together to form the least-threatening biker gang in history. Also, see interviews with the stunt and special effects crews.
• Alternate Ending
The Highway Patrolman (John C. McGinley) has one last run-in with the guys in the original ending to the film.
• Deleted Scenes
"Molar Abscess" features John Travolta's sister, and "Chili Pepper," a feature which shows a hilarious run-in with the Del Fuegos at the Chili Cook-off.
• Audio Commentary
Feature-length commentary by director Walt Becker and writer Brad Copeland.
• How to Get Your Wife to Let You Buy a Motorcycle
A funny featurette about the virtues of motorcycle ownership.
• Outtakes
• Easter Egg
The members of the hogs have enjoyed successful careers in film and television. Tim Allen starred in ABC's hilarious "Home Improvement" series, for which he received a Golden Globe® award, as well as the features "The Shaggy Dog," "Toy Story" and "The Santa Clause" franchise. Two-time Oscar® nominee John Travolta ("Get Shorty") has a legendary career including starring roles in films as diverse as "Pulp Fiction," "Grease," and "Primary Colors." Martin Lawrence starred in the 1997 comedy "Nothing to Lose." The former stand-up comic poured on the laughs in hit franchises "Big Momma's House" and "Bad Boys" while William H. Macy ("Seabiscuit"), achieved cult hero status as "Fargo's" used car shyster Jerry Lundegaard.
Ray Liotta ("Goodfellas") breaks out his black hat for the role of Del Fuegos leader Jack, while Academy Award®
winner Marisa Tomei ("My Cousin Vinny") plays Dudley's love interest Maggie. Walt Becker ("National Lampoon's
Van Wilder") leads the pack as director of Wild Hogs.

STREET DATE: AUGUST 14, 2007
Direct prebook: June 19, 2007
Distributor prebook: July 3, 2007
Suggested retail price: $29.99 U.S./$37.99 Canada
Blu-ray Disc: $34.99 U.S./$44.99 Canada
Feature run time: 100 Minutes
Rated: U.S. "PG-13." Canada "PG."
Aspect ratio: 2.35:1
Sound: Dolby Digital 5.1 Surround Sound
Languages: French and Spanish language tracks and subtitles