Yesterday, in addition to taking in the new O'Canada! film, we completed a circuit of the park to see what was new. Signs of preparation for the upcoming Food & Wine Festival were everywhere. But, so far no booths were set up, other than the Japan booths that are being used while the main restaurants are rehabilitated.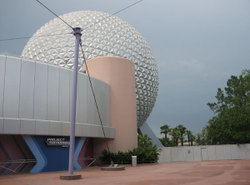 The geodesic sphere housing Spaceship Earth was back to its resplendent, unaugmented glory. However, the pathway on the east side is still closed to guests. For most of the day they had a cast member posted there to answer questions and direct guests. That was nice. I've heard some some of the other clutter around the area will be going soon. So hopefully that pole will vanish as well.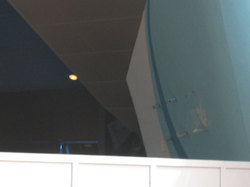 The signs for "Spaceship Earth" have been removed. The old signs already had the Siemens sponsorship on them, so I wonder if this signals a small name change to better reflect the new Siemens sponsored storyline.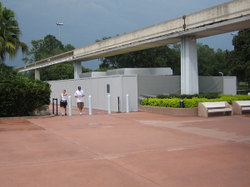 Before we go any farther in the park, here is the progress on a new 'bag check' station for the east side of the entrance plaza, just next to the monorail station up-ramp. A few months ago they were talking about a complete redo of the park's entrance. So, I don't know if these are temporary while the major construction goes on, or if the project has just been reduced to provide some shade structures.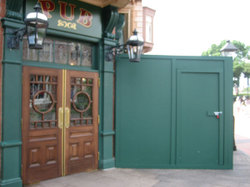 The exterior of the Rose & Crown Pub is getting some much needed TLC.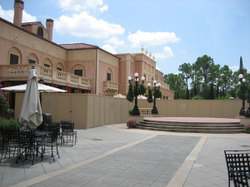 Walls are up in Italy for the change over from Alfredo's to the new Patina Group restaurant. I think Disney is missing an opportunity here to have a food booth set up like they have in Japan. Offer some Italian sweet treats, a pasta dish, and sparkling sodas. This was midday and no one was occupying any of the chairs that had been set out.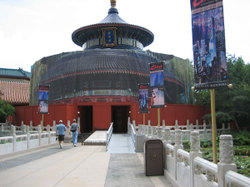 The tarps have begun to come down at Japan's Castle (sorry didn't get a photo of that, but it looks great!) and in China. I can't wait to have the whole thing back without walls again.
A final note. The Electric Umbrella, which has switched to self-service soda fountains (meaning free refills), has ditched the idea of offering smaller cups to guests for the same price. The regular price cup is now the same size as every other location in the park. Guests expect consistency, just because this one location is self-service isn't an excuse to short change guests. I'm happy that someone is still interested in exceeding guest expectations.