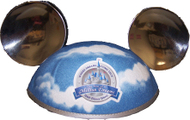 Many thanks to everyone who has already entered The Disney Blog's Birthday Contest. There's still plenty of time to enter before the 30th ends. To sweeten the pot Doobie at The LaughingPlace.com has agreed to add two copies of Tales from the LaughingPlace issue #10 to the prize list.
For how to enter,visit the original contest post. I've put the most up to date version of the entry list below the cut. If your name and blog is not on this list and you believe you've entered, please resend your email with your entry's URL.
Thanks again for playing and good luck!
Entries:
1. Amy at FattyPants Blog
2. Julie at Fred Poets Society Blog
3. Adam at Rucker Blog
4. The Masked Blogger
5. Mehgan at Chubby Cheekers
6. Erica at Figments of my Imagination
7. Darcy at A Place of My Own
8. Douglas at The Arnold's Blog
9. Kristan at City Slicker Blog
10. Ray at Grumpy's Hollow Blog
11. Sephyroth at Sephy's Platzish
12. Anastasia at Enter Now
13. Dave at Daveland –
14. Zeke at Disney Mania Blog
15. Valerie at Val's Mom Blog
16. George at DisneyGeeks.com
17. Andrew at DisneyGeeks.com
18. Amy at A Family Story
19. Dan at sjthespian Livejournal
20. Eric from Hobo Camp