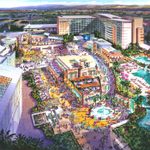 Believe it or not, Anaheim Garden Walk is set to open with its first tenants November 15th 2007. Since 1998 until 2006 Garden Walk was the very definition of vapor construction. A lot of talk, but not a shovel full of dirt moved. But once ground was broken boy did they move fast. Now the Disneyland Resort adjacent walking mall will open this November a few restaurants with shops and entertainment to open next year.
When the AGW was announced, it was supposed to act as a more adult alternative to Disneyland's Downtown Disney. With at least one nightclub on the current tenant list, it looks like that's the direction they're still moving. The original plans called for an L-shape with one end connected to Harbor Blvd and one to Katella. However, it looks like the Harbor Blvd connector is gone now, that might affect the volume of tourists AGW attracts.
Anaheim Garden Walk will have to overcome the fact that the Anaheim Resort, as beautiful as it has become, is still not known for heavy pedestrian traffic. Most tourists at hotels not adjacent to Disneyland take a shuttle bus directly onto Disney property. At the end of the day these same tourists return back to their hotels to get rest their tired bodies. However, if AGW can shift the habits (probably through heavy marketing) of enough tourists, I think it will be a boon to the resort district.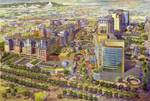 Way back when, Disneyland had the option to buy this property. However some bad blood between its previous owners put it out of Disney's price range at the time. So now a third party will own the most direct link between Disneyland and the site of it's rumored third gate. There is still a chance that Disney could lease some space and build one of its new hotels there, possibly a Disney Vacation Club.
Visit the official site for the current list of future tenants. (attached illustrations are concept art only.)