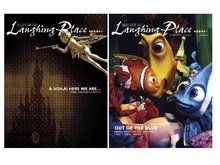 Tales from the LaughingPlace, the fan magazine that best covers the present and past of the Walt Disney Company's many facets, has announced the details of their best issue yet. Volume 10 is so amazing it requires two covers to convey the excitement. The first cover is a tribute to the 15th anniversary celebrations of Disneyland Resort Paris and features Tinker Bell and the park's icon in silhouette. The second cover is a photograph from Finding Nemo The Musical at Disney's Animal Kingdom park featuring Nemo and the Tank Gang. Each version will be distributed randomly to subscribers this month. Single orders can choose their cover.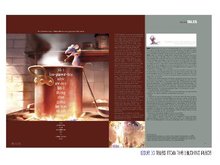 The full contents of Issue 10 are as follows:
Coming of Age: Introducing the talent for Disney's The Little Mermaid – A Broadway Musical;
Out of the Blue: Meet the creative team behind Finding Nemo – The Musical including creative director Michael Jung and co-composers Bobby Lopez and Kristen Anderson-Lopez including concept art, costume designs and photography from the show itself;
Meet the (Monster) World: Go behind the scenes of the latest E-ticket under construction at Tokyo Disneyland: Monsters, Inc. Ride & Go Seek!
Reception at the Palace: Rebekah Moseley takes a tour of the Cinderella Castle Suite at Walt Disney World's Magic Kingdom with Imagineer Stephen Silvestri;
Tales of 15 & Voila Here We Are: A retrospective of the previous Sleeping Beauty Castle makeovers at Disneyland Parc and the current decorations for the park's 15th anniversary;
The Sun, The Moon and The Stars: A glimpse at Disney's Once Upon A Dream Parade at Disneyland Parc with the creative team;
…Every Little Thing That Goes Into The Soup….: Rhett Wickham meets Ratatouille Supervising Animator Mark Walsh for an article that includes rare or never-before-seen concept art and sketches from the latest Pixar movie; and
Presently Huck said: "What do pirates have to do?": Lindsay Cave explores Pirate's Lair on Tom Sawyer Island at Disneyland.
You can pre-order issue 10 right now, or subscribe to Tales from the LaughingPlace, save a little money, and receive four issues starting with issue 10. Expected delivery is the end of July.