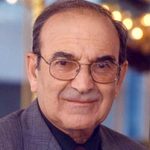 Joe at Universe of Synergy is a Disney fan and a member of the Experience Music Project in Seattle. So of course he attended the talk by former Imagineering President Marty Sklar on the Imagineering of Music.
He began with a prepared multimedia presentation, including some talks
about the history of Imagineering, but then the second half of the
presentation really focused on the music used throughout all of the
parks. Several themes came through during the presentation, most
notably his real love for Epcot, the park that he really shaped. I
think there were little bits from nearly every ride's soundtrack at
Epcot. It was really a well-imagineered presentation.
I love to hear Marty talk. Sometimes he even lets his guard down a bit as in this reported answer to the failure of California Adventure:
"You can't build a park with 18 attractions next to Disneyland with
over 70 attractions and charge the same price. People are too smart for
that."
Yep. It is true that the old guard at WDI knew all along that California Adventure would never past the mustard of the discerning Disney Theme Park guest. What's sad is that it has taken until just recently, and the arrival of John Lasseter, that anyone is listening to them.