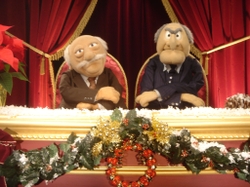 Winners of the 'Webby Awards' were announced this week. From the Disney camp, one of the two properties nominated won. 'Statler & Waldorf: From the Balcony' from Movies.com won for the Best Comedy: Long Form or Series, Online Film & Video
for 2007 in the annual People's Voice voting.
"The Webby Awards honors the outstanding work that is setting the standards for the Internet," said David-Michel Davies, executive director of The Webby Awards. "Statler & Waldorf: From the Balcony is a testament to the skill, ingenuity, and vision of its creators."
Congrats to the team at Movies.com. People's Voice
Winners will be honored at The 11th Annual Webby Awards in New York City June 3-5,
2007. Tickets usually sell out fast. (Image courtesy Movies.com)
Previously: Disney Properties Nominated for Webbys.