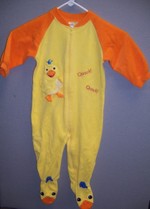 The U.S. Consumer Product Safety Commission, in cooperation with the Disney Store, today announced a voluntary recall of Baby Einstein Caterpillar Pajamas and Baby Einstein Duck Pajamas. About 200 units total were sold. Consumers should stop using recalled products immediately unless otherwise instructed.
The recall involves footed pajamas made of 100 percent cotton. This sleepwear fails to meet the children's flammability standard, posing a risk of burn injury to children. Only sleepwear in sizes 12 months and 18 months is included in this recall. Sleepwear sold in sizes 3, 6 and 9 months is not included in this recall.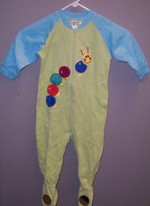 The sleepwear was sold in two styles including green with blue sleeves which has a caterpillar design on the front, and yellow with orange sleeves which has a duck design and "Quack! Quack!" printed on the front and duck beaks on the feet. "Baby Einstein" is printed on the back of the sleepwear. "Disney Store" is printed on a tag inside the pajamas.
No incidents or injuries have been reported. Consumers should immediately stop using the recalled sleepwear and return it to any Disney Store for a full refund.For additional information, contact Disney Store toll-free at (866) 902-2798 between 8:30 a.m. and 5 p.m. PT Monday through Friday.