Update: 10-20-08 Newly released 'red label' Disney Bridal Gowns for plus sizes. Pictures too.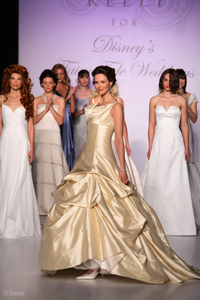 I thought you might be interested in the new line of Wedding Dresses to come out of the Walt Disney Company (Belle Dress pictured at left). My wife and I were married at Disneyland and honeymooned at Walt Disney World. It was a great experience for us. If you're a Disney fan and can afford it, I recommend you at least go in for an appointment.
As for the Disney Bridal Gowns, I think they look wonderful and the price appears to be reasonable. I just hope Disney realizes that many of their fans are 'plus size' and has designed the dresses with that in mind. I'd also like Disney to come out with some Men's formal wear accessories too. Mickey subtle patterned vests would be a nice start.
The full press release is below the cut and you can view photos of the dresses here and here (with runway pictures included).
See also: Disney Fairy Tale Wedding CD
Kirstie Kelly for Disney's Fairy Tale Weddings Collection Is
Inspired by the Unique Spirit and Personality of Each Disney Princess
NEW YORK–(BUSINESS WIRE)–The Gown. The Slipper. The Kiss. The Prince. Under it all, every
girl believes in the dream. As a tribute to fairy tale wishes and
finding true love, Disney today will unveil a new collection of
wedding gowns inspired by the spirit and style of each Disney
Princess. Kirstie Kelly For Disney's Fairy Tale Weddings inaugural
collection will be showcased on the runways this evening as part of
the New York Bridal Fashion Week. Bridal gowns priced between $1,100
and $3,500 US dollars and a "Maidens" for bridesmaids collection will
be available at specialty boutiques in North America, Japan and Europe
beginning in June. The collection will soon expand to include "Jewels"
that accessorize even the fairest of them all.
The collection combines a fashion-forward look with timeless
elements inspired by the Disney Princesses themselves, including
Ariel, Aurora/Sleeping Beauty, Belle, Cinderella, Jasmine and Snow
White. Fabrics like organza, chantilly, chiffon, satins and tulle are
accented with stunning embellishments, including lace, ribbons,
crystals, pearls and gorgeous embroidered beading.
"Every look takes its inspiration from the silhouette, palette and
icons of each Disney Princess story and interprets the spirit of each
young woman," said Kelly. "Each of them has a unique, charming and
very individual style that many brides can identify with – and now
truly emulate – on their wedding day."
The Ariel dresses are sultry and alluring – ideal for the bride
who feels comfortable with a more form-fitted look. Fabrics consist of
gorgeous silks and chiffons, beads, leaf applique and pearls, with a
mermaid-like "wave effect" at the bottom. The Aurora/Sleeping Beauty
collection is lovely and romantic, with a mix of georgette, chantilly,
high-shine satin, pearl and crystal embellishments, with pleated hems
and beaded organza inlays. The Belle collection exudes stylish
sophistication, with lace and ribbon, bands of satin, taffeta and
gorgeous tulle flowers at the neckline. The Cinderella gowns radiate
classic glamour and elegance, with silk tulle, duchesse satin,
scattered crystals and embroidered beading. The Jasmine gowns convey a
Bohemian chic look, featuring appliqued lace, embroidery and draping,
with chiffon and satin mixed in with clustered beadwork. The Snow
White dresses are sweet and demure, with rouched chiffon, tulle inlays
with beading and pleated satins.
"When brides shop for wedding gowns and see Kirstie Kelly's Disney
Princess-inspired collection, they will stop in their tracks," said
Jim Calhoun, executive VP, global apparel, Disney Consumer Products.
"Every bride wants to be a Princess on their wedding day, and they
want the magical feeling that goes along with it. This collection
captures that magic extremely well."
For consumer information on the Kirstie Kelly For Disney's Fairy
Tale Weddings collection, consumers may visit www.disneybridal.com.
About Kirstie Kelly
Kirstie Kelly of Kirstie Kelly, Inc. designs couture bridal gowns
with the highest quality and attention to detail. A graduate of The
Otis Art Institute of Parsons School of Design in Los Angeles, she has
been designing bridal and evening wear for more than a decade. Hailed
in USA Today as one of the 2003 season's new designers favored among
celebrity brides, Ms. Kelly has a growing client base that includes
individuals who are influencing the worldwide media, art, culinary and
political societies. For more information visit www.kirstiekelly.com.
About Disney Consumer Products
Disney Consumer Products (DCP) is the business segment of The Walt
Disney Company that extends the Disney brand to
merchandise ranging from apparel, toys, home decor and books and
magazines to interactive games, food and beverages, stationery,
electronics and animation art. This is accomplished through the work
of DCP's various lines of business: Disney Toys, Disney Apparel,
Disney Food, Health & Beauty, Disney Home, Disney Stationery, Disney
Publishing, Disney Interactive Studios, Baby Einstein, and
www.disneyshopping.com. The Disney Store, which debuted in 1987, also
falls under DCP, through stores currently owned and operated by
unaffiliated third parties under licensing agreements in North America
and Japan, and wholly-owned stores in Europe. For more information,
please visit www.disneyconsumerproducts.com.