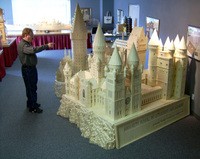 Nikki Finke claims to have a big scoop on which theme park property will hand the rights to the very popular Harry Potter franchise.
I'm told that Universal Studios Florida is finalizing terms to bring a
type of "Harry Potter World" to its Orlando resort. The themed
area would be at a previously unused portion of the amusement park. The
negotiations have been kept uber-secret.
She doesn't, however, cite her source. So to me it still remains in rumor stage. Based on the success of the books you'd think that which ever park lands the young magician is guaranteed long lines whenever the first attraction opens.
If it is Universal, Florida, I wonder which park it will go in. Nikki's story mentions it will go in an unused area of a current park. Universal Studios and Islands of Adventure each have one area that fits this description. But Islands of Adventure seems the better fit so the land won't have to be themed to movie production. For a while Universal did own some nearby land they were going to make into a third gate, but the recently sold that land and it's now being developed commercially.
My big wish is that GE/NBC/Universal spends the type of money this franchise deserves to be fully realized. I'm thinking the very immersive queue from Dueling Dragons but not Cat In The Hat where the theming stops 7/8ths up the wall so you notice all the lights and infrastructure.
For a new land with great theming, a Hogwarts Castle, Diagon Alley, at least one eatery, stores, a themed coaster/thrill ride, a dark ride adventure, and possibly a stage show we're talking in the neighborhood of $250 million to do it right. Keep in mind that Universal will also be spending some dough to relocate the Wet-n-Wild water park to the Universal property as soon as 2008. Those are some pretty hefty investments for a company that was shopping the theme parks around to interested buyers a few years ago. If they build Harry Potter they'll be investing in the profits that franchise will bring, so I guess that takes the Universal theme parks off the table for good.
Note: some online venues are predicting a whole Harry Potter themed amusement park. But I don't see NBC/Universal making that kind of investment. And Nikki's original post just mentions that a new land will be built, not a whole new park. I hope they prove me wrong.
(Image from MatchSticksMarvels)