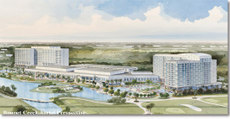 A short blurb in the Orlando Sentinel announced that construction has begun on the next Luxury Resort to open at the Walt Disney World Resort. No, it's not the Four Seasons Resort that was recently announced, instead it's the Hilton owned Waldorf Hotel brand that will arise on the Bonnet Creek property that abuts the back of the Epcot property. This will be the first Waldorf=Astoria brand to be built from the ground up since the original in New York City. The property is expected to replicate the art-deco feel of the New York location, and yet have a spirit all its own. Hilton plans to create a new luxury brand behind the famous name with as many as five additional Waldorf=Astoria branded hotels under consideration.
In the next three years there will be two 500 room ultra-luxury resorts on property. What does that mean for Walt Disney World? They now have a market of 1000 families a week that will be willing to pay that extra amount to make their vacation the ultimate in high class luxury. This is a new concept to Orlando and it will be interesting to see how it plays out, but it's something I've felt Disney has been missing.
Update: The Orlando Sentinel has a longer story today.