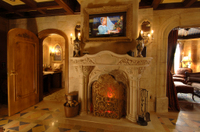 A company that performed insulation work during the recent renovations of the Magic Kingdom's Cinderella Castle has filed a lien against the property in a contract dispute the original contractor. Disney is not a party to the dispute other than that's where the work was done.
In one of the oddities of construction work, a subcontractor must often place a lien on the property where the work was performed if there is a pay dispute with the original contractor. Home owners get caught by this all the time during renovations and sometimes end up paying the same bill twice. One of the reasons it's important to make sure your contractor is licensed and bonded.
This is not the only time subcontractors have had to resort to placing a lien on Disney attractions such as the Haunted Mansion. (Read)
Previously:
Photos of the new Cinderella Castle Royal Suite,
More photos of the suite,
First Prize awarded in a rules violation?.