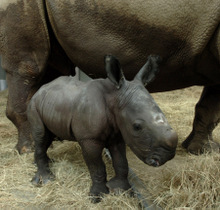 It's Tuesday night and I'm cranky. What could possibly help brighten my mood. Look it's a Baby Rhinoceros, freshly brought into the world this week at Disney's Animal Kingdom in Orlando. Kendi, an eight year old White Rhino gave birth to her second baby, early the morning of January 4th.
The oddest thing about this is that they named the baby Rhino Tom. Tom is the sixth White Rhino born at Disney's Animal Kingdom, and his mother, Kendi, was the first. Tom, the Rhino, was named in honor of Dr. Tom Foose, President of the International Rhino Foundation (IRF). Foose is remembered for his leadership, growth and strengthening of the IRF, and the continued survival of the world's rhinos for future generations to enjoy.
There are five Southern White Rhinos in the herd at Disney's Animal Kingdom – three males and two females of various ages. A Rhino birth is a notable event – in the past two years there have been 29 births in North American zoos. Disney recently successfully moved two White Rhinos to Uganda to help repopulate the herds there.
At one time White Rhinos were nearly extinct, numbering less than 100 animals. They were protected and managed well thanks to conservation efforts are now approximately 11,300 worldwide, with 196 in North American zoos. Many of the older animals in the population have not bred and it is critical to the long term survival of the North American population for this species to continue to reproduce. The gestation period is 16 months and normally results in a single birth.
Look for Kendi and Tom to join the other rhinos on the savannah at Disney's Animal Kingdom soon. (photo courtesy Walt Disney World)