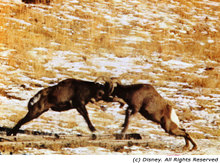 Roy Disney, Walt's Nephew, will be at the Egyptian Theatre on Thursday December 7th at 7:30pm for the release party of a new DVD. True-Life Adventures Vol 1 is the first release in the new Walt Disney's Legacy Collection. Tickets are available for pre-sale on Fandago.com
True-Life Adventures was a series of 13 groundbreaking film shorts and short features released between 1948 – 1960 that captured the wonder of animals and nature and won eight Academy Awards. Walt Disney had a soft spot in his heart for these films and they helped him position the Walt Disney Studios as a player in the Live Action film genre.
In classics such as "Seal Island," "The Living Desert," "The Vanishing Prairie" and "White Wilderness," Walt blended his unique sense of innovation with creativity and technology to put together films that brought fascinating insights into the world of wild animals as well as attention to the importance of conserving our outdoor heritage.
"Some of my first and fondest production experiences were on these
wonderful films," said Roy Disney, "so they're very close to my heart.
The movies remain as relevant and entertaining today, a whole new
generation will be able to discover them."
The acclaimed series makes its long-awaited DVD debut from Walt Disney Home Entertainment on December 5. Not only are the original movies included but the special feature list is impressive as well.
This program will consist of highlights from some of the most famous and popular entries. A discussion will follow the screening with Roy Disney and a panel of some of the filmmakers (TBA).
It was just announced that Oswald The Lucky Rabbit will be getting his own Legacy Collection DVD too.