Update: Everything appears to be back up and running now. Just in time for the 5:30 Barrel races on VMK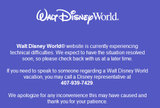 The Walt Disney Company of websites is experiencing a huge outage right now. Guests can't get into DisneyWorld.com, Disneyland.com, or VMK.com for starters. At DisneyWorld.com instead of the blue screen of death, you get this purple thing above with a number to call and speak with a reservation representative.
No word on when these websites will be back up or how many others are down. But I'm sure getting a lot of hits for VMK right now. If you're jonesing for your VMK fix, I'm sure it will be back online soon… in the meantime, why not go outside and enjoy some fresh air.