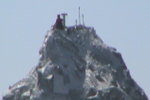 Back in the mid-90s Disney flirted with the idea of having webcams in their parks. They had a couple in Walt Disney World, including one looking down Main Street U.S.A. at Cinderella Castle. It was great to see if the park was busy or in bad weather, so you could decide to drop in later that night if you were a local, or just wanted to glimpse a bit of the magic if you were stuck at work. Alas these are now distant memories (although a google search might still find the old URLs, the images are now static).
Disneyland went so far as to install webcam capable cameras in various spots around the park, but they never made them available to the public. So I've often wondered why a couple of the nearby hotels that do have views into the park from their upper levels or roofs didn't set up webcams. It looks like one finally has.
The HoJo Anaheim has installed the MatterCam. You can see if the Matterhorn is running, watch the alpine climbers (as in the image), even see into DCA and the esplanade. You may have to wait to take control of the camera, but when you do experiment with the presets (available in the drop down box) before working with the controls.