When Disney Springs opens next year, a new sign will light up the night on top of what will soon…
Back in the day, when the clubs at Pleasure Island at Downtown Disney attracted huge crowds to the dance floor,…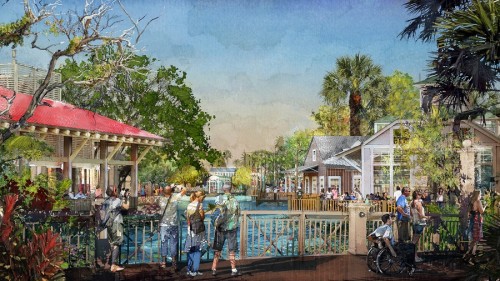 Among the many things announced by Walt Disney World yesterday, was the first new area of Downtown Disney to open as part of its transformation into Disney Springs. "The Landing" will be set by the water front and feature nationally known restauranteurs. None have been officially announced, but it's expected to include concepts from the Patina group (Via Napoli) and Steven Schussler (T-Rex, Yak & Yeti, and Rainforest Cafe). The Landing will occupy part of the area formerly known as Pleasure Island (basically behind where Raglan Road is now).
Disney also released a bunch more information about the transformation of Disney Springs (which will be the official name for the area commencing with the opening of The Landing. For summer 2014, outdoor entertainment will bring Downtown Disney to life, with nine different acts scheduled nightly – more than 30 live performances daily, a free highlight of the Downtown Disney experience. Special events like Car Masters Weekend (June 14-15) puts the spotlight on classic and exotic cars for Father's Day weekend, and includes character experiences featuring favorite Disney*Pixar "Cars" characters.
New this summer for Downtown Disney:
Two new Starbucks locations – a storefront at Downtown Disney West Side and a kiosk near World of Disney at Downtown Disney Marketplace. Look for the familiar green roof at the West Side flagship Starbucks, part of the company's commitment to be environmentally conscious. The design includes a covered patio overlooking the waterfront and a fireplace, as well as the new Clover Bar, featuring special reserve coffees brewed to order. A high-tech screen behind the Clover Bar will show images from coffee regions around the globe, and a new Human Connection Wall will include large touch-screen monitors that allow guests to use their finger to draw images.