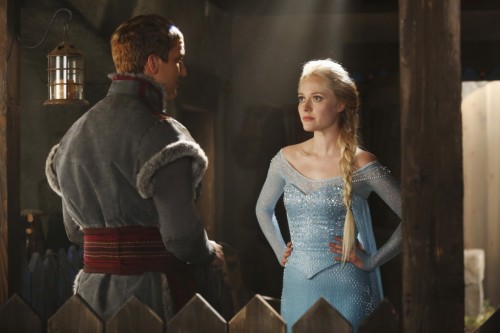 As Once Upon A Time enters its fourth season on ABC, they shared the first images of the Frozen-inspired season of Once Upon a Time. We also have a look back on the show's presence in San Diego during SDCC'14 on Saturday morning.
The SDCC panel included co-creators and executive producers Edward Kitsis and Adam Horowitz, along with Lana Parrilla (Regina), Josh Dallas (David), Emilie de Ravin (Belle), Colin O'Donoghue (Captain Hook), Jared Gilmore (Henry), Robert Carlyle (Mr. Gold) and Jennifer Morrison (Emma). They discussed the upcoming season of new characters, new adventures and new rivalries.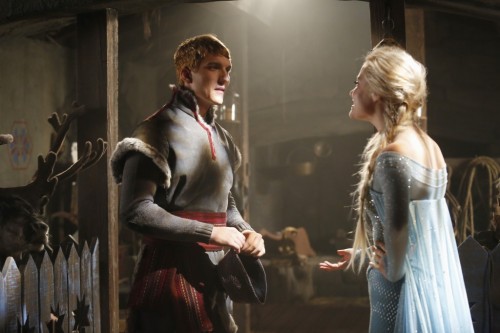 During the panel, they debuted a clip featuring Frozen's Elsa (Georgina Haig) and Anna (Elizabeth Lail) putting flowers on their parents' gravestones. Apparently the Frozen storyline on the series will take place after the events of the hit Disney film.
They also showed a second clip, filmed a few days before SDCC'14, featuring what looked like Regina returning to her old ways. The clip also featured a return appearance by the Mirror (played again by Giancarlo Esposito).
Ginnifer Goodwin (Snow) couldn't be there in person, but did send a lovely video greeting from the set of the show in Vancouver:
Four more photos of Elsa, Kristoff, and Sven plus a ton more SDCC videos below the jump:
Read More »Once Upon a Time Teases Frozen Storyline Plus Releases Season Four Promo and Photos