Hi Revenge fans! Turkey and travel delayed my viewing of this week's episode but I have come out of my food coma psyched to talk about another crazy Revenge adventure.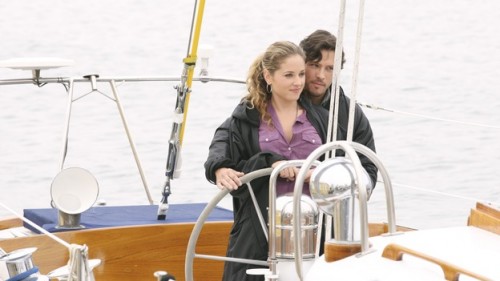 While we are about to jump into December, the people of the Hamptons are still scheming through the longest summer in existence, heavy on the drama.
If you remember from last week, Emily/Amanda/Kara has not cooperated with our Emily and left for Paris. Instead, she has permanently attached herself to Jack and he likes it. (I guess you can't blame the guy since he's getting nowhere with our Em but really? Ugh.) Nolan spots her in town (on the Amanda boat) and immediately alerts our Emily.
Emily puts on her sweet voice and tries to get through to Kara. You. Cannot. Stay. But Kara is not having it. She's tired of running and people not knowing who she really is. Now that she is Kara, things could work out! "Don't bite the hand that feeds you. You can't stay," Emily tells her sternly. Looks like their little alliance is not as strong as our Em once thought; Kara doesn't need Em's permission to do anything. She is staying.
Conrad decides to spice things up between Tyler and Daniel, proposing some "friendly competition". Whoever is able to score an investor at Conrad's lunch the fastest (for a $20M deal) will keep the full commission (and obviously have a leg up). Tyler is just about drooling over this opportunity, while Daniel is in. After just a week (or two — I'm not sure about the time period since the last episode), he seems to be enjoying this job. Tyler, on the other hand, continues his wily ways. It seems he stole Nolan's credit card to buy himself and Ashley some Hamptons-esque attire for the luncheon. This guy is just a piece of work.