We were told to expect the most significant announcement in this history of Busch Entertainment Corporation (BEC) and, short of a plan for Anheuser-Busch to sell the company, they delivered. Today BEC was joined by executives from Nakheel, the largest property developer in Dubai United Arab Emerites, to reveal the agreement to create the Worlds Of Discovery – a four park mega resort – on The Palm Jebel Ali in Dubai.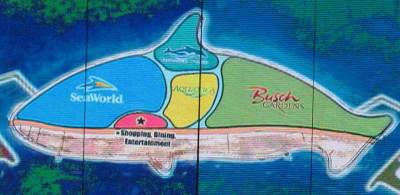 Map of "Shamu Island" home to Worlds Of Discovery – Dubai.
SeaWorld, Aquatica, Busch Gardens, and Discovery Cove – The Worlds Of Discovery parks – will see their first guest as soon as 2012 on a Shamu shaped reclaimed custom built island at "The Crown" of The Palm Jebel Ali, the world's largest man-made island. The Palm Jebel Ali is the second palm tree shaped man-made island to be built as part of Dubai's quest to become the world's entertainment destination. It will feature luxury housing, and resort hotels along its many acres of new shoreline.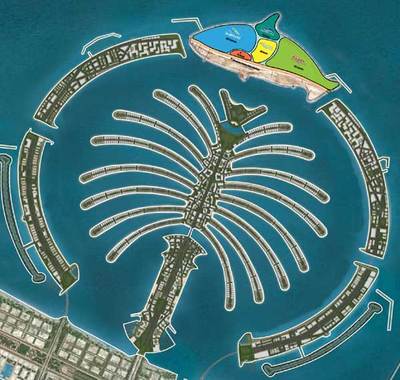 The Palm Jebel Ali, the world's largest man-made island.
More than 2 billion people live within a 5 hour flight of Dubai, which makes it a natural hub for the Middle East, Africa, Eastern Europe, and India. Worlds Of Discovery – Dubai will join Universal Studios Dubailand and a host of other tourist attractions including Cirque De Soliel, The QE2, Trump Tower, and an Atlantis Resort in the region.
Note: I'll be expanding on this article further tonight. More details and photos below the cut.
Read More »Busch Entertainment and Nakheel announces four new parks in Dubai