My wife and I were married in the El Capitan suite of the Grand Californian Hotel at Disneyland, so it…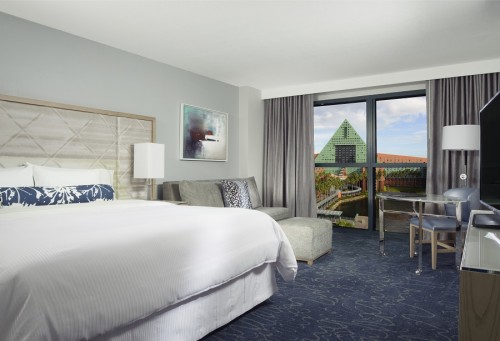 I have two large complaints about The Swan and Dolphin Hotel at Walt Disney World. First, they charge a lot of money for parking, which makes it difficult to just drop by and enjoy some of their fabulous restaurants. Second, they were built just a tad too close to EPCOT, so they tend to loom in the background of photos. On the other hand, that also means they're perfectly situated between EPCOT and Disney's Hollywood Studios. Making them a popular resort destination since they opened 25 years ago.
I'm also a fan of the architecture style brought by architect Michael Graves. Did you know that the Dolphin hotel actually represents a volcano that rose out of the ocean and that the Swan hotel was splashed with the water from the rising volcano. Check it out next time you visit. You'll see that the causeway between the two hotels represents the water.
It was just announced that the Swan and Dolphin Hotel will be getting the largest makeover in its history. The hotel has launched a multi-phase, multi-year, $125 million redesign project that will transform every guest room in the 758-room Swan Hotel and the 1,509-room Dolphin Hotel.
"As we celebrate the hotel's 25th anniversary, it is appropriate that we mark the occasion with a renaissance of our room product," said General Manager Fred Sawyers. "Our guests will continue to receive the level of service and hospitality that comes with a quarter century of experience while enjoying a modern new guest room."
The transformation, it is promised, will occur without disruption to the guest experience as the majority of guest rooms will be available throughout the process. The hotel's public spaces, restaurants, meeting rooms, shops, pools and recreational areas will not be impacted and remain fully operational throughout the renovation.