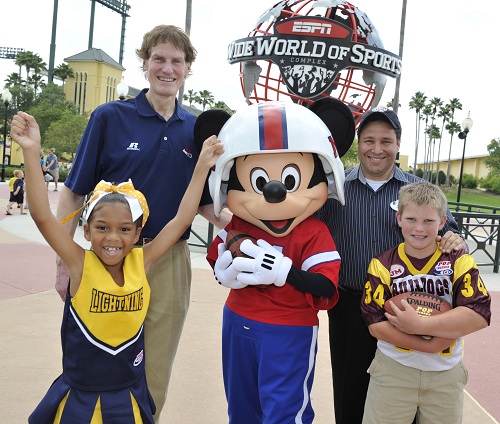 Ken Potrock, Senior VP of Disney Sports Enterprises, and Jon Butler, Executive Director of Pop Warner Little Scholars, pose with Mickey Mouse and two Pop Warner athletes at ESPN WWOS. (Gene Duncan, photographer)
For players and families of Pop Warner football, a new 10 year deal with Disney to host the Super Bowl and other games at the ESPN Wide World of Sports complex is a great deal. It means potential national exposure, plus access to all the fun that ESPN WWOS and Disney World provides. For Disney vacationers, it means another 10 years of loud groups and noisy nights at the value resorts. Having to share your resort with Pop Warner football players and Cheerleaders is one of the big complaints I read on discussion boards. On the balance though, I think this is a good deal.
Under the contract extension, which runs through 2019, more than 40 hours of live game coverage and game action cut-ins will be shown on ESPN3.com. In addition, the Division I Midget national championship game will be aired on ESPN2 and other networks.
Read More »Pop Warner Super Bowl signs 10 year deal to play at ESPN WWOS Complex