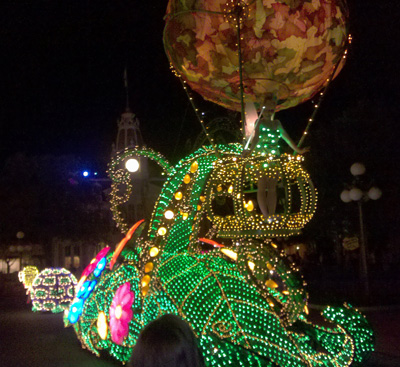 There's a lot of talk about a major upgrade coming to Disney's Hollywood Studios and Disney's Animal Kingdom is getting a whole land based on James Cameron's Avatar. Both big projects that will help Disney stay relevant for another generation. But there are some smaller projects Disney could implement on a shorter timescale that would also have a big Impact.
1. Night time parade at the Magic Kingdom – With "Festival of Fantasy," the Magic Kingdom finally has a modern day parade, now it's time to re-light the night. It's time to ditch the 70s era tech of the Electrical Parade and paint the street and sky with a parade as-yet unseen in the states. There are a couple candidates out there in Asian parks, but I'd also be happy to see something original.
2. Rivers of America – First, Disney needs to bring back more boats to the river, something like a steamboat from "The Princess and the Frog" would do nicely. Then they need to upgrade existing show scenes and add more to make a cohesive story. Ideally, the River would transform at night into a dinner or dessert cruise with a Jazz Band aboard the new ship.
3. Conservation station/ Rafiki's Planet Watch – Update the animal care message, include more success stories (Disney has a ton of them), remove train and add more up close animal encounters with new-to-the-park animals. I suggest animals from Polynesia / Australia to capitalize on upcoming movies and Finding Nemo.Read More »7 Walt Disney World Upgrades I would like to see.