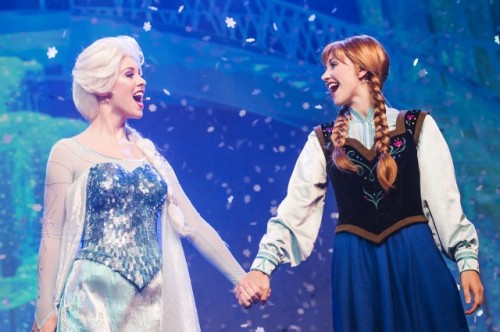 From getting the budget approved to hosting the first event in the park, the Frozen Summer at Disney's Hollywood Studios promotion took about a month to pull together. It's nice to see that Disney can still be nimble when it wants to be. And they've managed to produce a fantastic product that guests of all ages and temperaments can enjoy.
The good news, for those who haven't yet been out to visit Arendelle by the swamp, Disney has extended the royal stay by 4 weeks. "Frozen Summer Fun LIVE!" at Disney's Hollywood Studios will now end Sept. 28, 2014.
As you might guess, fans of "Frozen," the most successful animated film of all time, have been flocking to the flurry of fun at Disney's Hollywood Studios since July 5, enjoying immersive experiences like the "For The First Time in Forever: A 'Frozen' Sing-Along Celebration" and ice skating (on real ice!) inside Wandering Oaken's Trading Post & Frozen Funland. Anna, Elsa & Kristoff are also welcomed by guests daily in an 11 a.m. processional down Hollywood Boulevard while ice cutters, skaters and skiers join the cavalcade.
To commemorate the extension of this popular event, Disney commissioned an Elsa & Anna themed Etch A Sketch drawing from Etch A Sketch artist Jane Labowitch, aka Princess Etch A Sketch. The original drawing was done in one line, and took her an hour, but Disney condensed it down into a few seconds for your viewing pleasure here:
Nearly all of the event's components will continue daily, with the exception of the "Frozen Fireworks" spectacular. The fireworks show will be presented each night (except August 23) through September 1, and then on Fridays, Saturdays, and Sundays only from September 5-28.
Most activities in "Frozen Summer Fun LIVE!" are included in regular park admission to Disney's Hollywood Studios.
Read More »Frozen Summer Extended by 4 Weeks at Disney's Hollywood Studios