At Disneyland everything its Nightastic! Well, almost everything. The much anticipated new Fantasmic! Dragon is still being worked on. But…
Disneyland Resort Lights Up The Night With New Shows And A New Glow! It's Summer Nightastic!

The first three decades of Disneyland, the park was still struggling to create an identity to attract locals into the park. One of the strategies they employed were themed nights. Usually there would be some performer on the Rivers of America or other entertainment in tomorrowland. Well they're rolling back the clock this summer at Disneyland and it's going to be Nightastic!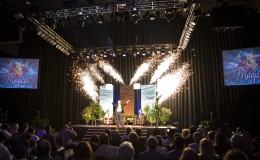 Vice President of Parades and Spectaculars Steve Davison introduces the new slate for Nightastic!
Disneyland Resort will glow like never before this summer as it debuts an all-new fireworks show, Magical, along with sensational new characters and effects that will brighten the Summer Nightastic! lineup of after-dark entertainment.
Guests can see Disneyland Resort in a whole new light as Summer Nightastic! brings nighttime shows and parades to life – bigger, better and brighter. A huge new dragon and other special effects will highlight Fantasmic! Explosive surprises will illuminate the night sky in the all-new fireworks spectacular, Magical. Guests can rock the night away at a new dance club in Tomorrowland. Sparkling new magic comes to "Disney's Electrical Parade," as well as to Pixie Hollow, the enchanting home Tinker Bell inhabits with her fairy friends.
The magic will play nightly, beginning Friday, June 12, and continuing through Sunday, August 23, at Disneyland and Disney's California Adventure parks.
Lot's more below: