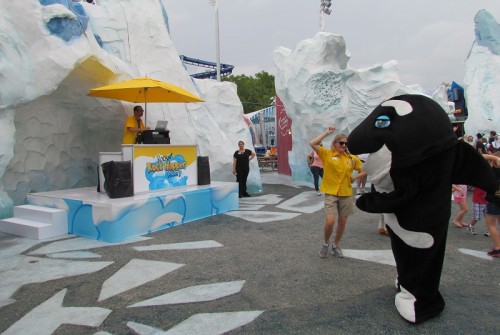 Spring is a busy season at Orlando's theme parks. Crowds can be large and lines long no matter where or when you go. SeaWorld Orlando wants to give you another option. Every Saturday through April 12th, you can bring your family and enjoy the special Just for Kids festival. Like all SeaWorld events, it's included with your park admission.
This year's Just for Kids is a little different than year's past. They're not having the kid music concerts. But SeaWorld's year-long 50th Celebration will be in full swing. As part of the celebration, park pathways will come to life with oceans of spontaneous entertainment. Guests will enjoy a Sea of Surprises featuring new interactive experiences and shows, even more up-close animal encounters and the SeaWorld "Surprise Squad" treating park guests with prizes and special experiences every day.
At "Just for Kids", families can experience whimsical fun and make lasting memories as they dance along to jammin' DJ's at the NEW Rockin' Rockhopper Party in Antarctica: Empire of the Penguin, get up close with adorable animal friends at the all-new "SEA Garden," and meet some of their children's favorite television stars. My favorite part was the "SEA Garden" which also features some amazing sculptures made from debris that was found on beaches.
And there's more! Kids can go on an educational treasure hunt as they look for the Sea Star icons throughout the park where they'll discover fun, educational activities. At each location they will collect a stamp and a limited edition Explorer's card. After visiting all four locations, they'll receive a coupon to redeem for a special SeaWorld prize at select gift shops.
Then end the night with Shamu & Crew at the Shamu Dance Party at the Village Square located at the front of the park. The party begins one hour prior to park closing with a stilt walker emcee who fills the square with music that the whole family can dance to, including popular line dancing songs and party favorites. The Shamu Dance Party continues until 30 minutes after park closing.
Read More »SeaWorld Orlando Just For Kids Rules Saturdays