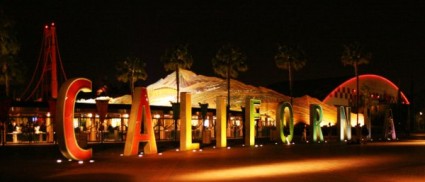 You'll know something is new at the park as soon as you arrive at the gates
One thing is clear, Disney has a hit on their hands with the World of Color show at California Adventure. Disneyland is able to tap into a huge base of support in the local community when ever they roll out something new or popular. That is great for the resort, but creates certain logistical problems that have to be dealt with.
It's clear that the park has a plan and they're executing it. You can debate if the policy of providing seating only to people who either pay for it with a dining package or arrive early enough in the day to get a reserved seat is a fair one. You can argue that the park shouldn't close down attractions before the show starts. But you have to be impressed with the focused execution of the plan.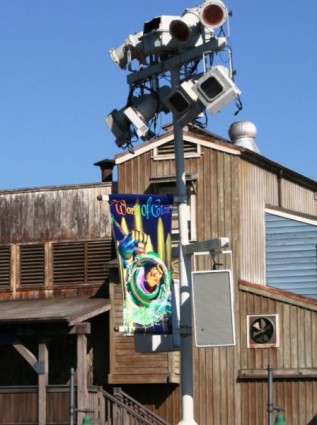 There is also plenty of in park signage.
Today my new west coast correspondent Pam, sent in her report from their viewing of World of Color last night. She sent a ton of great photos and I wish I had the space to run them all. But I have selected some of the best to sprinkle throughout this post.
This is just one person's experience and your mileage may vary, but I think it makes some important points to consider if you're planning your own visit soon.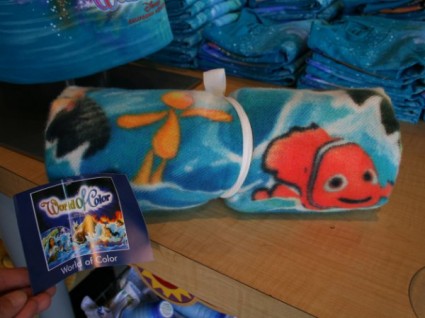 Plenty of merchandise options, including this throw blanket with 'Squirt' a character Disney created for the show, but later cut. It is a collectible now.
The girls and I braved the crowds yesterday to go to WOC. We arrived at DCA before the gates were opened (they opened them at 9:30) There was already a decent size line. Most people followed CM directions and walked orderly to the fast pass distribution line however there were a few that despite all of CM's best ever needed to run (of course).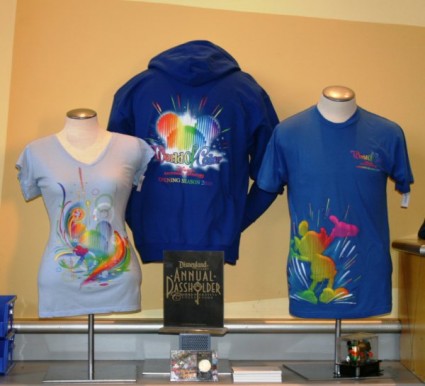 There is also some nice Annual Passholder exclusive merchandise
From the time the gate opened until we had fast passes in our hands was 24 min. CM's were allowing 1 or 2 (depending on which CM you spoke with) get FP's for the entire group so that the line was not outrageous. After we received our FP for the first (9:00pm show) in the yellow section we headed back down toward Soarin' by the time we got there the line to get a FP was 2 hours long and remained that way until about 3:00 pm. When the machines were only giving FP's for the 11:15 show, many people got out of line because they felt it would be too late. In the end All FP's had been distributed to all 3 shows.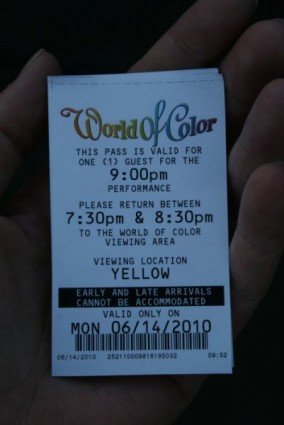 Don't stop for shopping in the morning, you'll want to head right for your own World of Color fastpass.
About the Fast Passes – The system was designed to keep people from camping out correct? Well, that ain't happening!! Our FP said to arrive between 7:30 & 8:30 pm and that no accommodations would be made for early or late arrivals (sounds good right?). We went on with our day both parks were horribly crowded so we spent much of our day just walking around enjoying the magic.
(Lot's more below the jump)