Disclaimer: My wife is an employee of Gatorland, however we attended as part of the media for this story, and her employee status has not changed our editorial review of the attraction.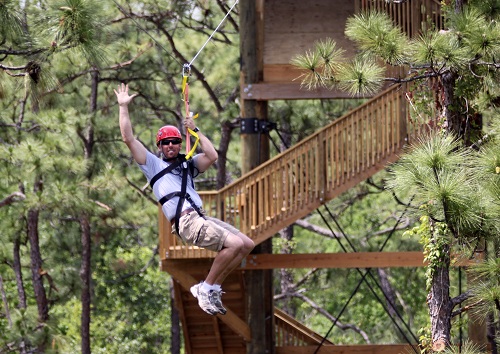 When visiting Orlando, don't forget to schedule a day for some of the minor amusement attractions. Gatorland has just zipped out their newest attraction, which could move them to the top of many a traveler's must do list. The Screamin' Gator Zip Line is an exciting outdoor adventure that covers 1,200 feet of high flying thrills in an experience that lasts over two-hours. It opens officially June 16th, but is currently taking reservations based on availability starting this week.
"We spent a tremendous amount of time designing this incredible experience that combines the most modern safety features available in a zip line with the raw beauty and excitement of Gatorland's natural exhibits and majestic animals," says Mark McHugh, Gatorland's president & CEO
The journey begins at the "Screamin' Gator Adventure Depot" where participants receive their gear and meet their adventure guide for a short safety orientation. The "Gator Grunt Run" is an introductory zip line with speeds topping 15-mph. Named after the sound made by baby gators, this 247-ft. line launches from a 45-ft. platform and promises to provide participants with experience and confidence as they prepare for the thrills ahead.
Read about the whole experience below the jump:
Read More »Gatorland To Open Screamin Gator Zipline, over 1,200 feet of thrills