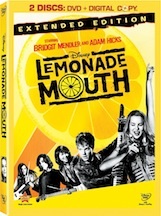 Be heard. Be strong. Be proud. That's the call for Disney's latest TV movie hit – Lemonade Mouth. Disney invites audiences of all ages to turn up the music and have some fun with the highly-anticipated 2-Disc DVD + Digital Copy debut of Lemonade Mouth available now for Pre-order. The hit Disney Channel Original Movie, stars Bridgit Mendler, Adam Hicks, Hayley Kiyoko, Naomi Scott, Blake Michael, Nick Roux, Chris Brochu, Tisha Campbell-Martin and Christopher McDonald, and features an exclusive extended music scene that fans can only get on this Extended Edition DVD release.
This is Disney Channel's hope of starting a new franchise. The feedback I've been getting is pretty good, so I can't wait to get a copy on DVD and see for myself.
In addition to featuring 10 awesome original songs from the No. 1 soundtrack, the exciting Lemonade Mouth: Extended Edition DVD release includes an exclusive extended performance of "Livin' on a High Wire" and an exciting "Rock-Along" version of the movie that allows fans to sing along, with lyrics to all the songs, appearing on-screen. Both features are available only on the DVD that debuts in the US on May 24, 2011 (Canada on May 17, 2011).
Synopsis and more below the cut:
Read More »Lemonade Mouth comes to DVD with Extended Edition and Extended Fun