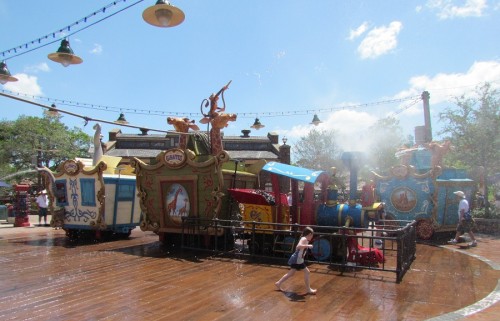 Now that walls are going up around the Sorcerer's Hat and the 14 year obstruction will finally be removed from the classic facade of The Chinese Theater, it's time to look at at few other monstrosity's that would help clean up some mistakes made by previous administration at Team Disney Orlando.
Here's my list of five things that Disney should delete from Walt Disney World. I promise there are no sacred cows either:
1. Casey Jr. Splash n' Soak Station
There are a lot of elements of Magic Kingdom's New Fantasyland that I find questionable, but the water play area called "Casey Jr. Splash n' Soak Station" is the worst. Not only is it a safety hazard, but the design was so bad that kid's are kept away from the main play feature of the train engine by a fence. Derail this train and instead install a performance area with amphitheater seating and a stage for bands and comedy acts. Oh yeah, add some shade too.
2. Walk Around The World bricks
Over 20,000 bricks were sold as part of the "Walk Around The World" promotion that started in 1994 and ended in 2000. Bricks were only promised to be maintained for 10 years and we're now five years past that date. Most of the pathways are now showing their age. A lot of bricks have been removed leaving an ugly patch work of new and worn bricks around the Magic Kingdom and TTC area. It's time to pack the bricks away and put in some beautiful new pathways. Read More »Sorcerer Hat, gone. Now 5 more things Disney should remove from Walt Disney World.