In a poorly timed event, couldn't they find a day other than Earth Day and the 10th Anniversary of Disney's…
All the competition videos are now online for the Disney Parks' Chief Magic Official (CMO) competition. Go see Tripp, Justin,…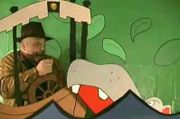 What is your dream Disney job? How about making guest's wishes come true, appearing at special events, and hob-nobbing with VIPS. No, it's not Mickey Mouse (although he does that too), it's the newly created position of Chief Magic Official.
Disney recently revealed the 10 finalists in its Year Of A Million Dream user generated content video contest. You can see all ten video resumes, learn a bit more about each candidate, and vote for your favorites at DisneyCMO.com.
Amy Kate Connolly; Pacific Palisades, Calif.
Karrie Dunkin; Englewood, Colo.
David Hawley;Roseville, Calif.
Patrick Hurd; Oklahoma City, Okla.
Justin Vance Muchoney; Seven Fields, Pa.
Jennifer Sechler; Westerville, Ohio
Tangela Yvonne Walker-Craft; Lakeland, Fla.
Meggin Weaver; Kissimmee, Fla.
Ronald "Tripp" West; Powder Springs, Ga.
David Wotruba; Bremerton, Wash.
My personal favorite is Patrick Hurd, who also happens to run the Windows To The Magic Podcast. I've met Patrick and find him to be totally capable and deserving of the CMO position. I haven't met any of the other candidates, but I really enjoyed Meggin Weaver's video. Plus she's local to Orlando. The neat thing about the contest is you can vote as often as you'd like. So I hope you'll go and vote for Patrick and Meggin (and your favorite candidate) early and often.
Voting ends on March 22nd at midnight Pacific Time. The top 3 will move on to the next round at Walt Disney World and voting will begin again in mid-April with one then being selected for the CMO position.
The full press-release is below the cut: