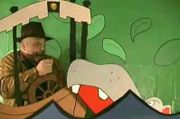 What is your dream Disney job? How about making guest's wishes come true, appearing at special events, and hob-nobbing with VIPS. No, it's not Mickey Mouse (although he does that too), it's the newly created position of Chief Magic Official.
Disney recently revealed the 10 finalists in its Year Of A Million Dream user generated content video contest. You can see all ten video resumes, learn a bit more about each candidate, and vote for your favorites at DisneyCMO.com.
Amy Kate Connolly; Pacific Palisades, Calif.
Karrie Dunkin; Englewood, Colo.
David Hawley;Roseville, Calif.
Patrick Hurd; Oklahoma City, Okla.
Justin Vance Muchoney; Seven Fields, Pa.
Jennifer Sechler; Westerville, Ohio
Tangela Yvonne Walker-Craft; Lakeland, Fla.
Meggin Weaver; Kissimmee, Fla.
Ronald "Tripp" West; Powder Springs, Ga.
David Wotruba; Bremerton, Wash.
My personal favorite is Patrick Hurd, who also happens to run the Windows To The Magic Podcast. I've met Patrick and find him to be totally capable and deserving of the CMO position. I haven't met any of the other candidates, but I really enjoyed Meggin Weaver's video. Plus she's local to Orlando. The neat thing about the contest is you can vote as often as you'd like. So I hope you'll go and vote for Patrick and Meggin (and your favorite candidate) early and often.
Voting ends on March 22nd at midnight Pacific Time. The top 3 will move on to the next round at Walt Disney World and voting will begin again in mid-April with one then being selected for the CMO position.
The full press-release is below the cut:
Orlando, Fla., March 3, 2008
– Today, the Top 10 semi-finalists for Disney Parks' Chief Magic
Official (CMO) joined the online campaign trail to ask America to cast
votes for the first-ever CMO who will oversee magic throughout Disney
Parks. The semi-finalists were chosen from more than 1,300 applicants
who applied to be the Disney CMO in a national search contest sponsored
by CareerBuilder.com.
During the Year of a Million Dreams, the CMO will travel to
Disneyland and Walt Disney World Resorts and help create magical
experiences for guests, participate in special events and wizard
behind-the-scenes with the Walt Disney Imagineers.
Unlike the U.S. presidential candidates who specialize in foreign
policies and healthcare, the 10 Disney Parks' CMO wannabes are
campaigning their abilities to pillage and plunder with pirates,
befriend dwarfs – up to seven at a time – and show just how royal they
can be.
It is up to the semi-finalists to drive their own campaigns.
Political symbols such as donkeys and elephants have been traded in for
lions, pixies and everyone's favorite mouse. Each candidate will choose
from one of five iconic Disney characters to represent his or her
campaign Web site: Mickey, Goofy, Cinderella, Tinker Bell or Simba.
"We were overwhelmed by the number of online entries," said Craig
Dezern, Vice President, Global Public Relations, Disney Parks. "The
creativity and love of Disney displayed in nearly every entry was
inspiring. Now we're eager to see how well our CMO candidates perform
in winning the votes needed to be a finalist."
Voting nationwide is open now through March 22 (11:59 p.m. ET). Over the next three weeks, consumers are encouraged to visit www.DreamCMO.com and vote for who they believe is most magically fit to be the Disney Parks CMO.
Each CMO candidate completed a Magic Aptitude Test (M.A.T.) online
and was encouraged to submit a virtual entry which captured his or her
personality and visually and verbally supported why he or she would
make the ideal CMO.
"Who wouldn't want to put 'made magic' on his/her resume," said
Richard Castellini, Vice President of Consumer Marketing of
CareerBuilder.com. "This is a one-of-a-kind position for a
one-of-a-kind company. We are pleased to be working with Disney Parks
to provide the American workforce with an opportunity you, quite
honestly, couldn't get anywhere else."
Ballots Reopen for the Top Three
After America's votes are in, the top three vote-getters will be
announced mid-April, along with details surrounding their two-day in
Park competitions at Walt Disney World Resort. Semi-finalists will face
tests of creativity, enthusiasm, knowledge of the Parks and actual
magic aptitude. The competition will be recorded and videos
highlighting each of the three finalists will be posted on www.DreamCMO.com for a final round of voting. The top vote-getter during April 14-21 will be named the Disney Parks Chief Magic Official.