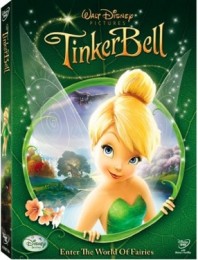 A few years ago John Lasseter swept into the Walt Disney Studios on the waves of the Pixar / Disney merger. Like Obama, Lasseter had a mandate. His mandate was to reform the culture of Walt Disney Feature Animation. Make it more like the successful culture up in Pixar, while still retaining that which is essential to Disney. Near the top of Lasseter's list, end the direct to video sequels (aka cheapquels).
So why in the world has Disney released yet one more Direct to Video movie? And how could it involve one of Walt Disney's more beloved and classic characters – Tinker Bell. How could you let that happen Uncle John?
Well, he let it happen because, hey turns out the idea was pretty good. It needed some tweaking, a real reworking, really. They had to upgrade from the 'TV afternoon quality' animation the movie started with, rework the story, rework it again, and again, and then suffer while all the merchandise that was created for the original release date hit the streets with no movie to tie-in too.
So the question is, was it worth it?
My answer is yes. "Tinker Bell" turns out to be a good movie. Yeah, they didn't get Tinker Bell's look or personality right. Yes, it's computer animation, not hand drawn. But if you think of it as a re-launch, or an update to keep the character relevant, then they did a good job. In fact, if you can get over the fact that Tinker Bell speaks, you can easily overcome all the other changes that Pixie Hollow brings.
Some of those changes are good things. The story has heart, great characters, and a good message. You certainly can't ask for more when you're looking for good home entertainment from Disney. I guess that's the reason the DVD is number one on the Amazon sales chart right now.
Now we hear that not only is the second Tinker Bell film well under way, a third film is being scripted. There's a fourth and fifth film in the series if those two do well too. All this is part of the Walt Disney Company's plan to make the Disney Fairies brand as big a money maker as the Disney Princess brand. I wish them luck.
The full press release with details on the DVD, Blu-Ray and Special Features is below the cut. So click on through.
Read More »Tinker Bell Makes A Movie, Signs Deal for Four More