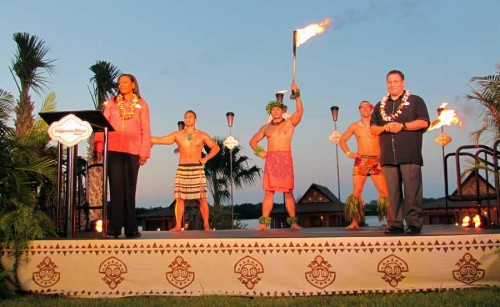 Disney's Polynesian Villas & Bungalows just reopened with a dedication ceremony that featured a fire artist and drums. A small group of cast members and media gathered atop Sunset Pointe for a ceremony that brought the spirit of Polynesian islands to Orlando to officially open the newest Disney Vacation Club option for guests.
We also were able to interview with Ken Potrock, Senior Vice President and General Manager of Disney Vacation Club, who gives his best pitch for why the latest Disney Vacation Club resort is the best option for families that love to visit Disney.
Three longhouses from the Polynesian Village Resort were converted into Disney Vacation Club Villas featuring 360 deluxe studio villas. 20 over-the-water bungalows will, no doubt, become the prized reservation for the well-to-do at Walt Disney World.
"This is truly a stunning addition to the Disney Vacation Club portfolio," said Ken Potrock, Senior Vice President and General Manager of Disney Vacation Club. "Research has told us that Disney's Polynesian Village Resort is one of our most beloved Walt Disney World Resort hotels. As a result, we integrated a new Disney Vacation Club resort that stays true to the original character of this spectacular and iconic property."
The Deluxe Studios at Disney's Polynesian Villas & Bungalows are the largest at Walt Disney World Resort, sleeping five guests each. Each features tropical décor complete with striking prints, bamboo-style fixtures, a whimsical hidden pull-down bed and a split bathroom perfect for families. The Deluxe Studios also offer the flexibility of connecting to an adjacent room.
The resort's Bora Bora Bungalows are the first such accommodations ever created by Disney. The two-bedroom, two-bathroom Bungalows transport guests to a tropical haven filled with Disney touches. Each Bungalow sleeps eight guests and offers a view of the Magic Kingdom Resort area. Inside the Bungalows, modern luxuries with an island touch add life to the already exquisite design. Amenities include a full kitchen, two bedrooms complete with flat panel televisions, split bathrooms, washer and dryer, two hidden pull-down beds featuring playful artwork, a private plunge pool on the back deck, and many other special touches.
Check out our Fact Sheet for Disney's Polynesian Villas & Bungalows DVC below:
Read More »Disney's Polynesian Villas & Bungalows Grand Opening Ceremony