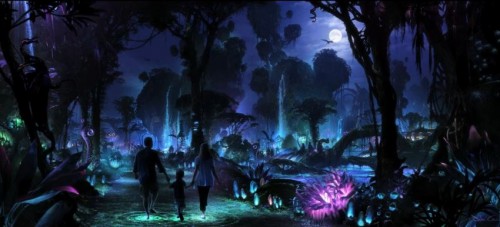 Disney's Animal Kingdom was originally envisioned as a full day park. Designers had included a large section of the park devoted to imaginary animals of the beastly kingdom. This land would have giant coasters, flying beasts, family friendly attractions, and really allow the Imagineers imaginations to go wild with the possibilities. Sadly, the budget for that area was cut and left to the dustbin of history.
But Disney has always known it would need to add to DAK eventually. If you look at the details for Avatarland, we are getting something close to the original idea for a land of fantasy creatures (just without the giant coaster, which ended up at Islands of Adventure when some Imagineers let go by Disney took their ideas to Universal). Just not the fantasy creatures you were expecting.
What's clear is that DAK needs to expand its offerings into the night and that Pandora: The Worlds of Avatar (or whatever the name is these days) can be a big part of that. Just look at that concept art above. The potential of bio-luminescence is amazing. I don't think Imagineers would release that art if they didn't know they could pull it off. I urge fans who still have questions about Disney's decision to partner with James Cameron and his Avatar movies to give Disney's team a chance to add something amazing to DAK.
You really don't have a choice anyway, as Friday's groundbreaking ceremony for the expansion makes it all as official as it gets in the world of Disney anyway.Read More »Construction Begins on Avatar-Land at Disney's Animal Kingdom